Vegetarian tagine with seitan
Vegetarian tagine with seitan
Here is a tagine filled with vegetables and vegetable proteins! Also a new way to cook seitan, an ingredient made from wheat or spelled gluten. Combined with chickpeas, potatoes and carrots, you will get a healthy and complete dish. Without forgetting the olives for the flavors and the almonds / pistachios for the crunch. We let you follow our step by step recipe and tell us what you think in the comments ;-)
Materials
A pot or casserole
A tagine dish
A cutting board
A knife
Preparation
Chop the garlic and ginger. Cut the onions and carrots into thin slices. Add these ingredients to a pot with the cumin, salt and 6 tablespoons of olive oil. Mix, cover and cook over medium heat for 5 minutes.
Meanwhile, peel the potatoes and cut them into pieces.
In a tagine dish, arrange 2/3 of the potatoes. On top, add the pot mixture as well as the seitan cut into pieces and the drained cooked chickpeas. Add the rest of the potatoes and finally the olives.
On top, pour the lemon juice, 2 tablespoons of olive oil, water, agave syrup and a pinch of salt.
Close your tagine dish and place it in an oven at 350°F (180°C) for 1 hour. At the end of this time, mix your ingredients and put the dish back in the oven for 1 hour more.
Before serving, sprinkle with fresh and chopped coriander, slivered almonds and shelled pistachios. And there you are!
You tried this recipe ?
Mention @petitchef_en and tag #petitchef
Cookware
Observations:
How long can I keep the leftovers of my tagine?
Placed in an airtight box, you can keep them for 2 days in the refrigerator.

Can I freeze this recipe?
No problem ! You can thaw it over low heat in a casserole dish directly on the hob or in an oven at 300°F (150°C).

What if I don't have a tagine dish?
You can use a cast iron casserole dish or a casserole that you can place in the oven.

What can I substitute for cilantro?
You can replace it with parsley.

What can I substitute for almonds and pistachios?
By other nuts such as walnuts, cashews or hazelnuts.

What is seitan?
Seitan is a food made from wheat or spelled gluten. It is often used in vegetarian, vegan and flexitarian diets. Rich in vegetable proteins, seitan is also low in fat.

Can I put meat in this tagine?
Yes you can replace seitan and chickpeas with pieces of meat or fish. Brown them for a few minutes in the onion/carrot/spice mixture before placing them in your tagine dish and then in the oven.

What accompaniment for my tagine?
Semolina will be perfect!
Photos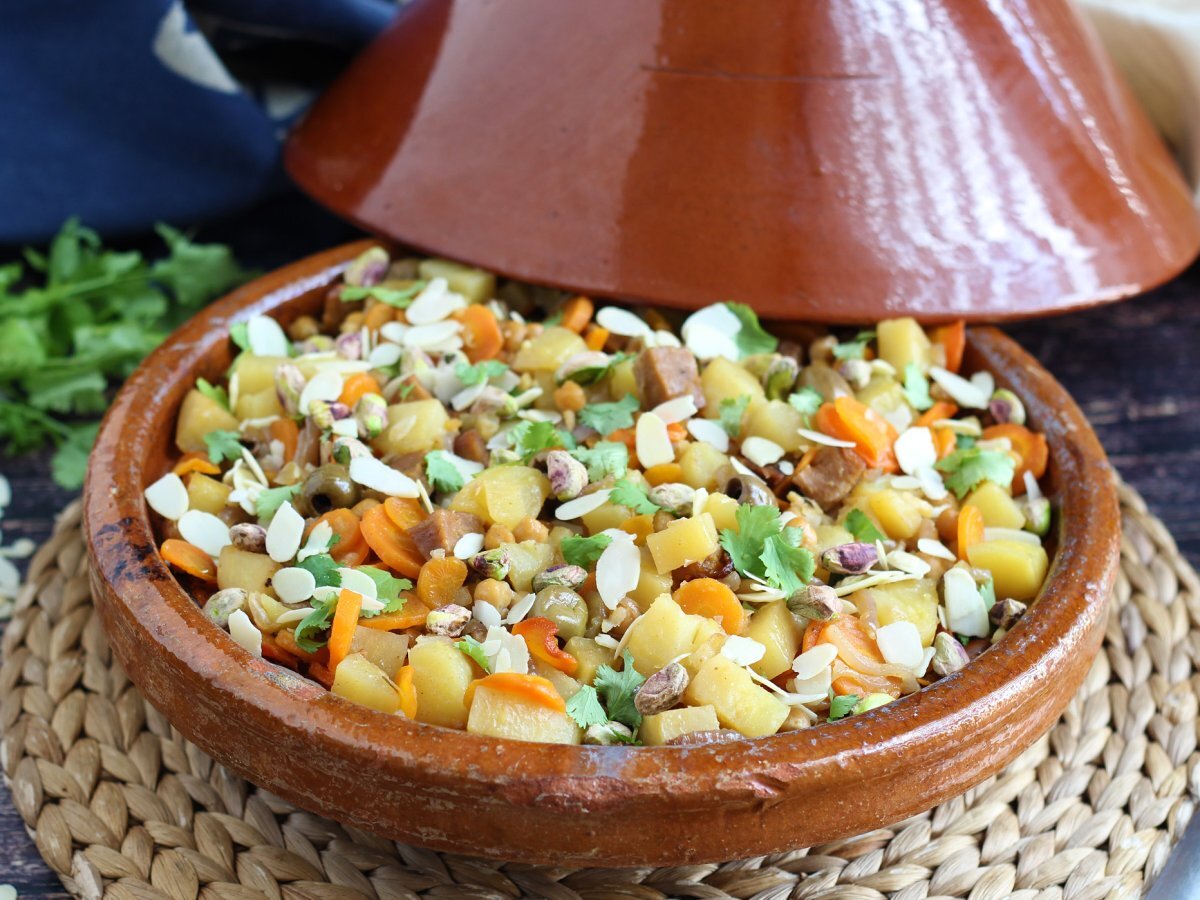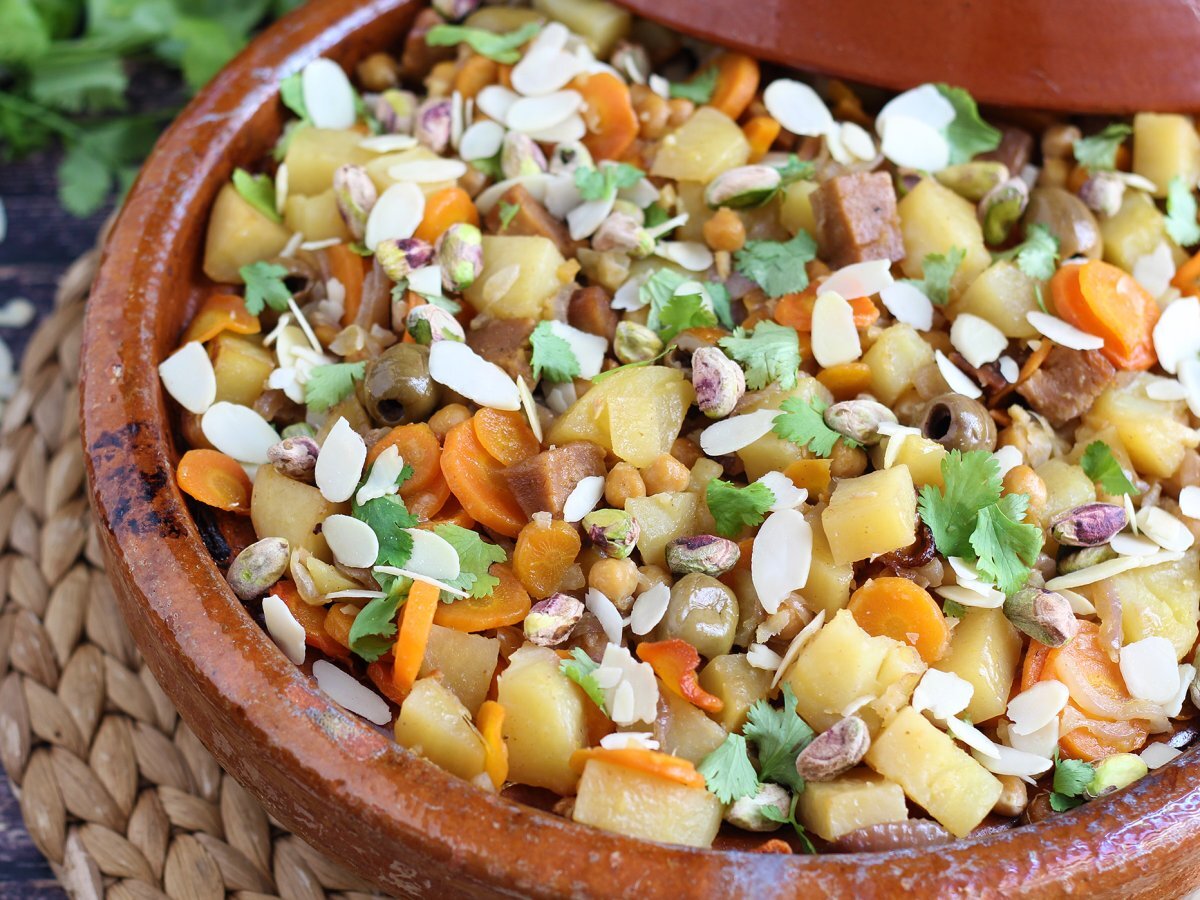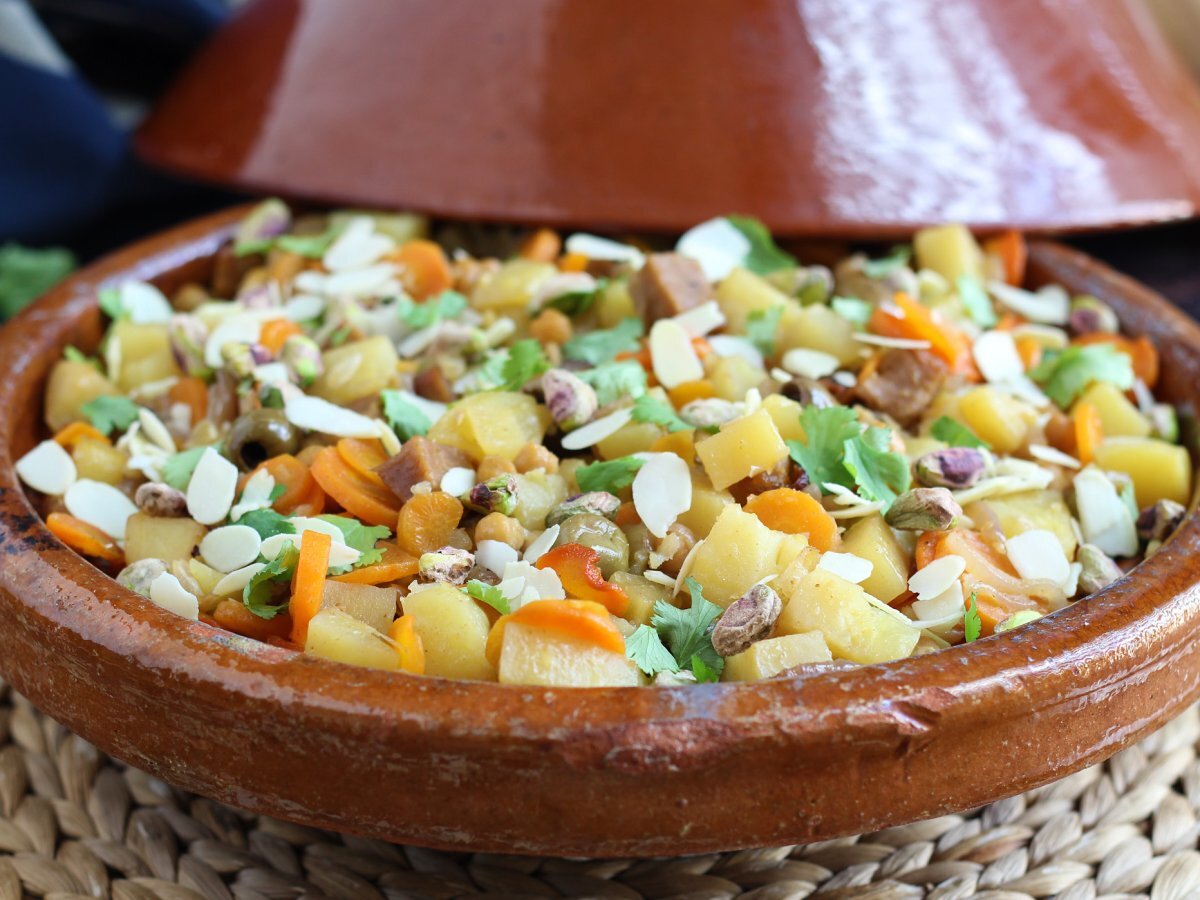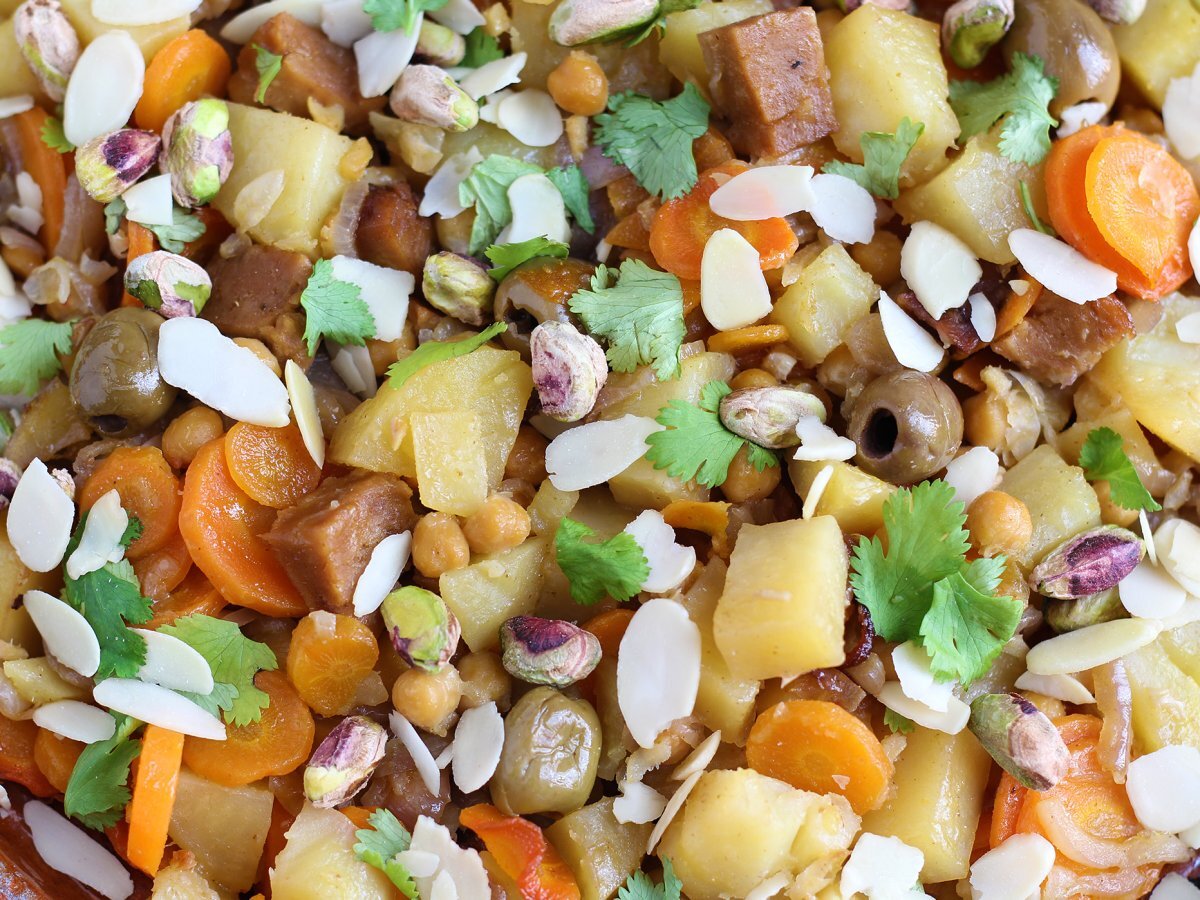 Questions:
You may like
Recipes

<! -- HB ko - AD gpt-->