Chana dal paratha with tamatar ki chutney and khatta meetha kaddu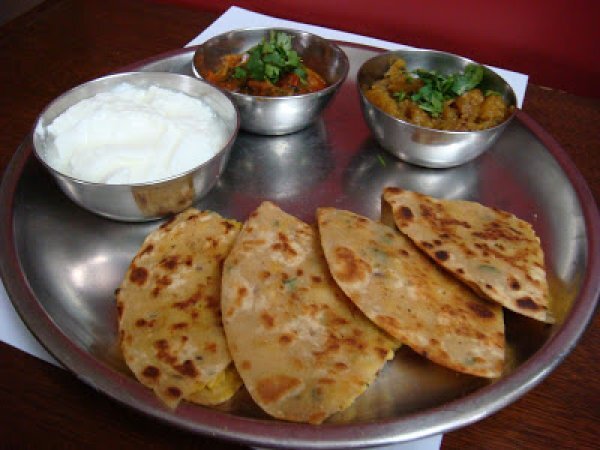 Preparation
For the dal-filling:
Heat ghee in a pressure cooker. Add to it asafoetida, bay leaf and cumin seeds. After 30 seconds add the chana dal. Add to it turmeric powder and salt. Add just enough water to cover up the dal. Pressure cook for 15-20 minutes. When cooled remove the bay leaf. Mash the dal lightly, leaving one-third dal as whole.
For the Dough:
Take the flour in a flat cornered plate. Put the sprinkle of flaxseeds, carom seeds and sesame seeds in the flour. Add to it salt to taste and finely chopped coriander leaves. Put a teaspoon of oil.
Knead using water- a firm dough.
For the Dal-Paratha:
Form a round ball (tennis ball size) out of a part of the dough. Flatten it and make a cup shape (katori). Put 2 tablepsoons filling in it seal it. With the help of rolling pin prepare a (roundel) paratha. Using dry flour roll it to approx 5-6 inch diameter. Place this on a hot griddle. When brown specs start appearing turn sides. When slightly browned smear little oil or ghee. Turn side and again smear oil or ghee. When lightly browned put it on the chopping board. Cut into four to form four triangles. Serve hot with tomato relish and sweet and sour pumpkin.
For Tamatar ki chutney (Tomato relish):
Heat oil. Add to it the fenugreek seeds and onion seeds. Add to it tomatoes and chillies. Add salt to taste. Put 2 tablepsoons water, cover and let it cook. When tomatoes turn soft and mushy add jaggery , sugar and dry mango powder. Mix well. Cook for 5 minutes on low flame. Transfer into serving dish and garnish with coriander.
For Khatta Meetha Kaddu (Sweet and sour Pumpkin):
Heat Ghee. Add to it asafoetida. Put in the fenugreek seeds. Add to it both the pumpkins. Mix well. Add turmeric and salt. Put 1/2 cup water, cover and cook till pumpkin is done. If required you can add more water. Add sugar and dry mango powder and mix well. Cover and cook for 2-3 minutes. Serve hot garnished with coriander.
Questions:
You may like
Recipes
Related articles