Ka-ree Puff (Chicken Curry Puffs Thai style)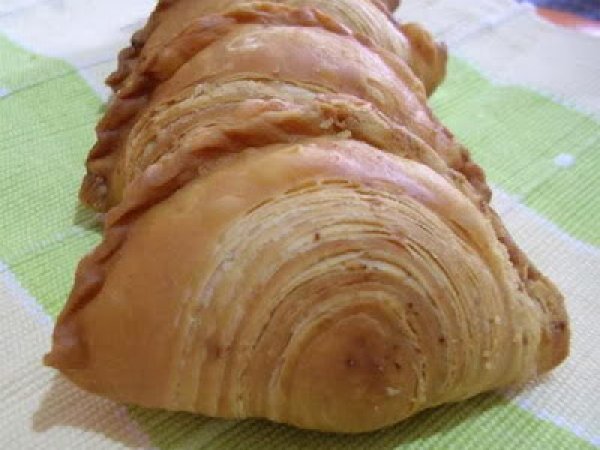 Preparation
Pastry :
Sift the flour in a bowl with the salt and break up the butter into small pinches and add it to the butter.
Using your hand rup the butter into the flour so that you have a crumb like mixture.
Add the coconut milk and mix it in with the flour until you have a firm dough.
Turn the dough out onto a work surface and knead it for 8-10 minutes until you have a pliable ball of dough.
Cover the dough with cling film and refrigerate it for at least 30 minutes but preferably overnight before using.
Filling :
Place the oil in a large saucepan over a moderate heat.
Add the garlic, fresh coriander, ginger, spring onion, pepper, ground coriander, turmeric and cumin to the oil and cook it for a couple of minutes until the mixture is aromatic.
Stir in the carrot and potato coating them in the spices and cook for a couple of minutes.
Add the lemon juice, fish sauce, chili, sugar and a couple of tablespoons of water.
Leave them to cook for 10-15 minutes, stirring occasionally until the carrot and potato is tender,
add the peas, return it to the heat for a further 5 minutes.
The liquid should be evaporated and the vegetables should be cooked.
Remove the mixture from the heat and allow to cool.
Curry Puffs :
Rolls the pastry out so that it is 2-3 mm thick. Cut out 8 cm. rounds with a biscuit cutter.
Place a small spoonful of the curry mix in the centre of each round.
Moisten the sides of the pastry with water and fold it over, so that you seal in the filling.
Mark the edges with a fork and set them aside until ready to cook.
To Cook :
Heat the oil in a deep fryer, wok or saucepan to 180 - 190 C. Cook a few of the curry puffs at a time until golden brown (around 2 minutes).
Remove the curry puffs and drain them on kitchen paper and repeat the process, until you have cooked them all.
Questions:
You may like
Recipes