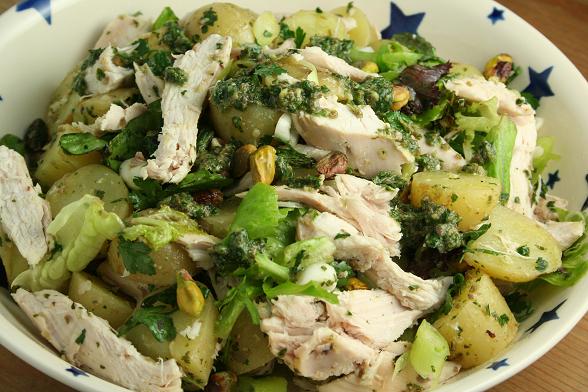 Knowing we were going to be away this weekend, we placed an online shopping order so that we didn't return home to an empty fridge on Sunday night. We do this every now and again and it works well but usually we stick to basics like milk and bread. This time however, Stephen was keen to barbecue a whole chicken and, knowing we wouldn't have time to get to the butcher, I included a Duchy Originals chicken on the order. We've had these chickens before and really enjoyed the flavour, we normally pick them up from the store though so we can choose the size we need; not an option when shopping online which is how we found ourselves in possession of a 2 kilo chicken, double the size we would normally buy.
The barbecue plan didn't come to fruition either as our neighbours had just filled up their washing line and gone out for the evening. Being the considerate, friendly neighbours we are, we decide to roast the chicken in the oven instead.
It's been a while since we last barbecued a whole chicken so I'm not sure what that would have added to the flavour but I can't imagine much could have bettered what we had. As I mentioned before, we've really enjoyed these chickens before and this one seemed particularly good with an almost gamey aroma that drove us crazy with hunger while it roasted. We kept the stuffing simple and just used some parsley, thyme and bay leaves. Seasoned, obviously, and rubbed with oil before sitting in the oven for the duration of the cooking time with just one turn.
Not wanting a traditional roast dinner, we had already decided on a salad and opted for a salsa verde dressing since we had some leftover from yesterday's fish. The ends of the salad from Friday with some sliced spring onions, some boiled new potatoes, a handful of roasted pistachios and a little fresh parsley and mint completed the dish.
We both really enjoyed the end result. The salsa verde worked brilliantly with the other ingredients and added a fresh, zingy lift to the overall flavour. The chicken, as we hoped, was full of flavour and definitely able to stand up to the powerful salsa verde. The pistachios added a pleasing crunch too.
While a recipe isn't required, below is a note of how we assembled the dish.
Salsa Verde Chicken Salad
Start by roasting your chicken. We left the cooked chicken to rest and then sliced up the amount we needed and left that to cool to room temperature.
We already had our leftover salsa verde but you'll need to make this if you don't have leftovers.
If you're using pistachio nuts (or other kinds of nuts, pine nuts or hazelnuts would be good) then they will have more flavour if you roast them ahead of time and leave to cool.
Boil or steam some new potatoes and leave to dry out. When still warm, add the salsa verde and stir through the potatoes until they are well coated. Add some olive oil to loosen. We didn't use all of the salsa verde but kept some back to add later on.
When both the chicken and potatoes have reached room temperature, add the chicken to the potatoes, season with pepper (you probably won't need salt because the anchovies and capers in the dressing will be enough) and add the salad leaves and sliced spring onions. We also added a handful of torn mint and parsley. Add the nuts, mix the whole lot together so that everything is well coated and serve with the extra salsa verde.