Green lettuce with apples, candied walnuts and pomegranate seeds
Green lettuce with apples, candied walnuts and pomegranate seeds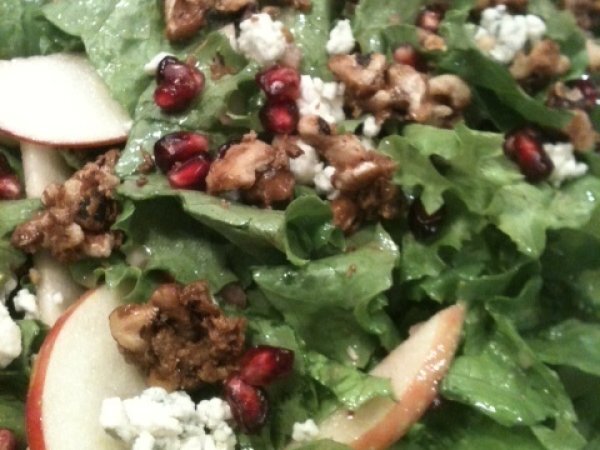 Delicious Honeycrisp apples, candied walnuts and pomegranate seeds make this a fabulous fall salad. This recipe is adapted from The Dandelion, a restaurant in Philadelphia
Ingredients
1 tablespoons cider vinegar
---
---
1 tablespoon finely chopped shallot
---
---
1/3 cup very mild
olive oil
, such as Filippo Berio Extra Light Olive Oil
---
Kosher Salt and fresh ground pepper to taste
---
1 head of green leaf lettuce, or butter or Boston lettuce, gently torn
---
1 Honeycrisp
apple
, cut in half, sliced thinly
---
---
1/2 cup crumbles blue cheese
---
For candied walnuts: (Or use store bought)
---
1 small package chopped walnuts (about 2 onces)
---
1/3 cup sugar or light brown sugar
Preparation
Whisk first four ingredients together in a small bowl. Gradually pour oil and whisk together to combine. Use can use a small blender or Cuisinart. Season with salt and pepper to your taste.
For candied walnuts, toast walnuts on a baking sheet for 5 to 7 minutes at 350. Remove from oven.

Heat sugar in a pan until it begins to melt. I used light brown sugar and it took several minutes before the sugar began to melt. When it does, add the walnuts and toss to coat with the sugar. Add a pinch or two of salt. Let cool on baking sheet.
Combine the lettuce, apples, and walnuts. Toss with dressing, you may not need all of it. Garnish with pomegranate seeds and blue cheese.
Questions:
Related recipes
Recipes