The comfort of apples: healthy citrus beet and apple salad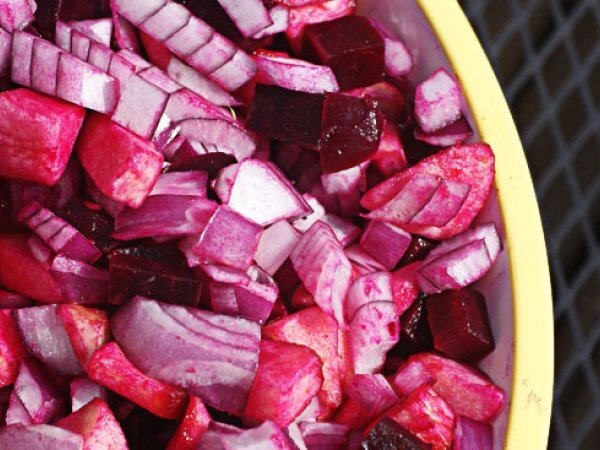 Recipe type:

Starter

Number of serving:

2 servings

Preparation:

15 min

Cook time:

0 min

Ready in:

15 min

Difficulty:

Very Easy
Ingredients
- 2 bunches of beets
- 2
cinnamon
sticks
- 10 allspice
berries
- 6 whole
cloves
- Cooking spray or 1 teaspoon of olive oil
- 4 tablespoons of pine nuts
- 1/2 teaspoon of
curry
powder
- 1/4 teaspoon of
salt
- 1 cup high quality olive oil
- 1 1/2 cup of unsweetened
- salt and pepper to taste
- 6 small to medium apples
- 2 cups diced red onion
- 2 avocadoes
- 1/2 pound of blue cheese
Preparation
Step 1
Prepare beets according to the directions in How to cook and peel beets. Let beets cool. Then dice and set aside.
Step 2
Heat a small sauté pan over medium heat. Spray with a cooking spray or add 1 teaspoon of olive oil to lightly coat the pan.
Step 3
Pour the pine nuts into the heated pan and fry until golden, about 3 to 4 minutes. Toss or stir frequently and make sure not to burn them!
Step 4
Place 1/4 teaspoon of salt and the curry powder in a small bowl. Add the toasted pine nuts and toss with a spoon to cover. Set aside.
Step 5
In a small bowl whisk olive oil with grapefruit juice. Set aside. Cut the apples into 1/4 inch dice. Place apples along with beets and onions in a large salad bowl.
Step 6
Gently toss with the dressing. Cover and refrigerate for 1 hour. Before serving, cut the avocado into thin slices.
Step 7
Divide the salad among 8 bowls or plates. Insert an avocado slice or two evenly throughout the salad.
Step 8
Or serve on the side or across the top. The idea is to have a little avocado with each bite. Sprinkle with blue cheese and curried pine nuts.
Questions:
---
---
Related video
Related recipes
Recipes
Related articles