Maxi flaky twists (tomato, ham, mozzarella, parsley)
Maxi flaky twists (tomato, ham, mozzarella, parsley)
We love puff pastry twists: so we decided to double the bet for even more flavors and happiness! The idea is simple, create strips that we will overlap before twisting them together. Admit that you need to try it ! And it's so easy to make! The proof with our detailed recipe below ↓
Materials
A baking tray
A knife
A bowl
A kitchen brush
Preparation
Roll out your puff pastry on a baking sheet. Pour in the tomato coulis and spread over the entire surface.
Sprinkle with the grated mozzarella then the fresh and chopped parsley.
Add the prosciutto cut into pieces.
Place the second puff pastry on top of the first and gently flatten with your hands.
Using a knife, cut your preparation in the middle lengthwise then form strips of about 0.5 inch widthwise.
With your strips, proceed in mirror: put the right one on the left one, press them lightly between them.
Take the two strips between your fingersand form a twist, stretching slightly. Place your twist on the baking sheet.
Repeat the operation with all the pairs of strips.
Brush your twists with beaten egg yolk using a kitchen brush and bake for 20 minutes at 350°F (180°C).
There you go: your maxi flaky twists are ready!
You tried this recipe ?
Mention @petitchef_en and tag #petitchef
Observations:
Can I freeze these pastries?
No problem ! You can freeze them pre-cooked, and decide to continue cooking once you have thawed them. Or freeze them already cooked, passing them for a few minutes in an oven at 280°F (140°C) on D-Day (and putting aluminum foil on top if you are afraid they will burn). In any case, freezing your puff pastries will be a great tip to always have a recipe available for party but also when you have people planned at home and don't have time to make puff pastries for everyone on D-Day; -)

How do I store my twists in the fridge?
The ideal will be to keep them in an airtight box, sheltered from the air and this for 3-4 days.

Are these puff pastries eaten hot or cold?
It's up to you ! You can serve them right out of the oven or wait for them to cool.

What can I replace the tomato coulis with?
You can replace it with another spread such as pesto, pesto rosso, tapenade, eggplant caviar, etc.

What can I substitute for mozzarella cheese?
You can replace it with grated Gruyere or Parmesan cheese.

What if I don't have fresh parsley?
From time to time, we like to put dried thyme, rosemary or basil in place of fresh parsley in these puff pastries.

When to eat these puff pastry twists?
The ideal for us is during the aperitif but if you have any left, you can also arrange them on a plate accompanied by a mixed salad. This recipe will also be ideal to serve to children if you receive families at home and do not know what to prepare for your little ones :-)

What other flavor combination ideas can I use in my puff pastry?
Here are our best associations:
* Smoked salmon + cream cheese + dill
* Spreadable goat cheese + honey + crushed walnut pieces
* Pesto + mozzarella + olives in small pieces
* Tapenade + anchovies
Photos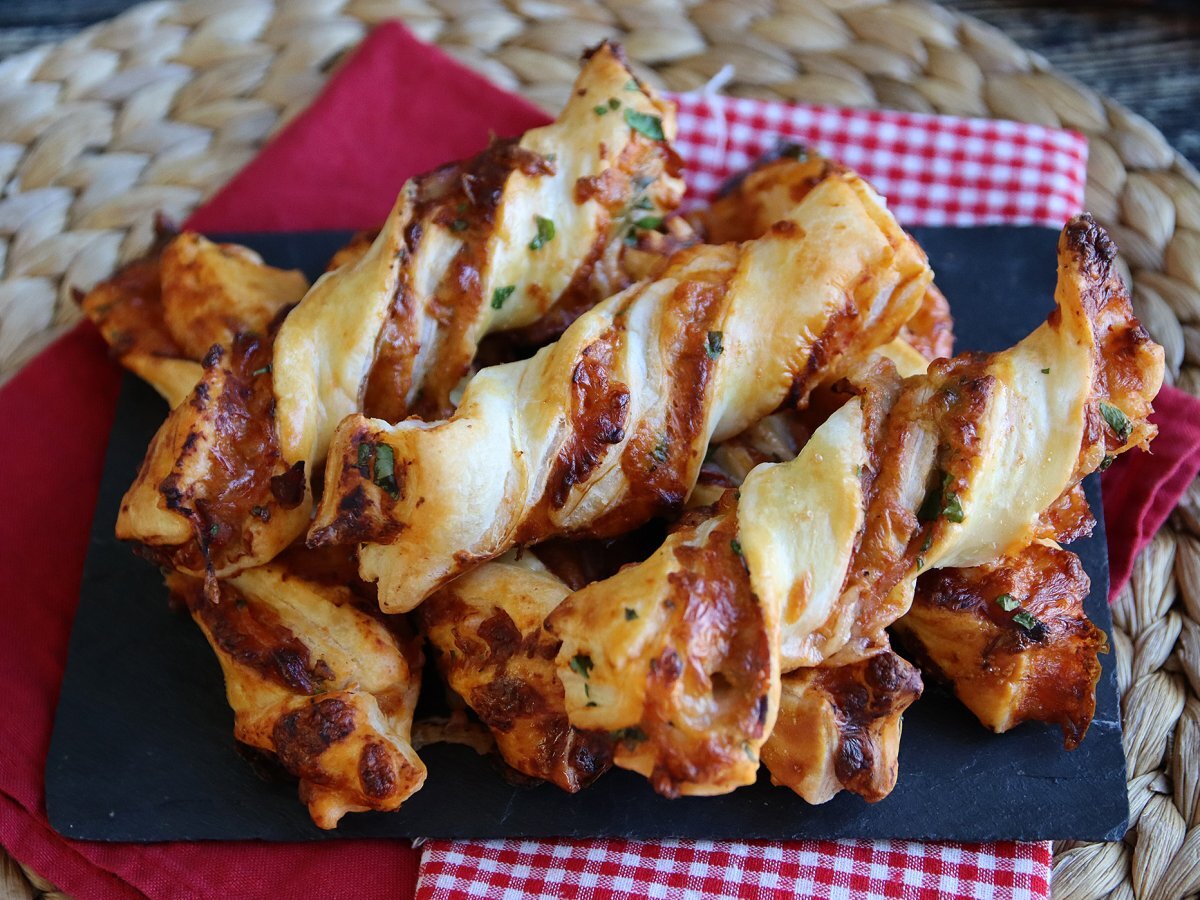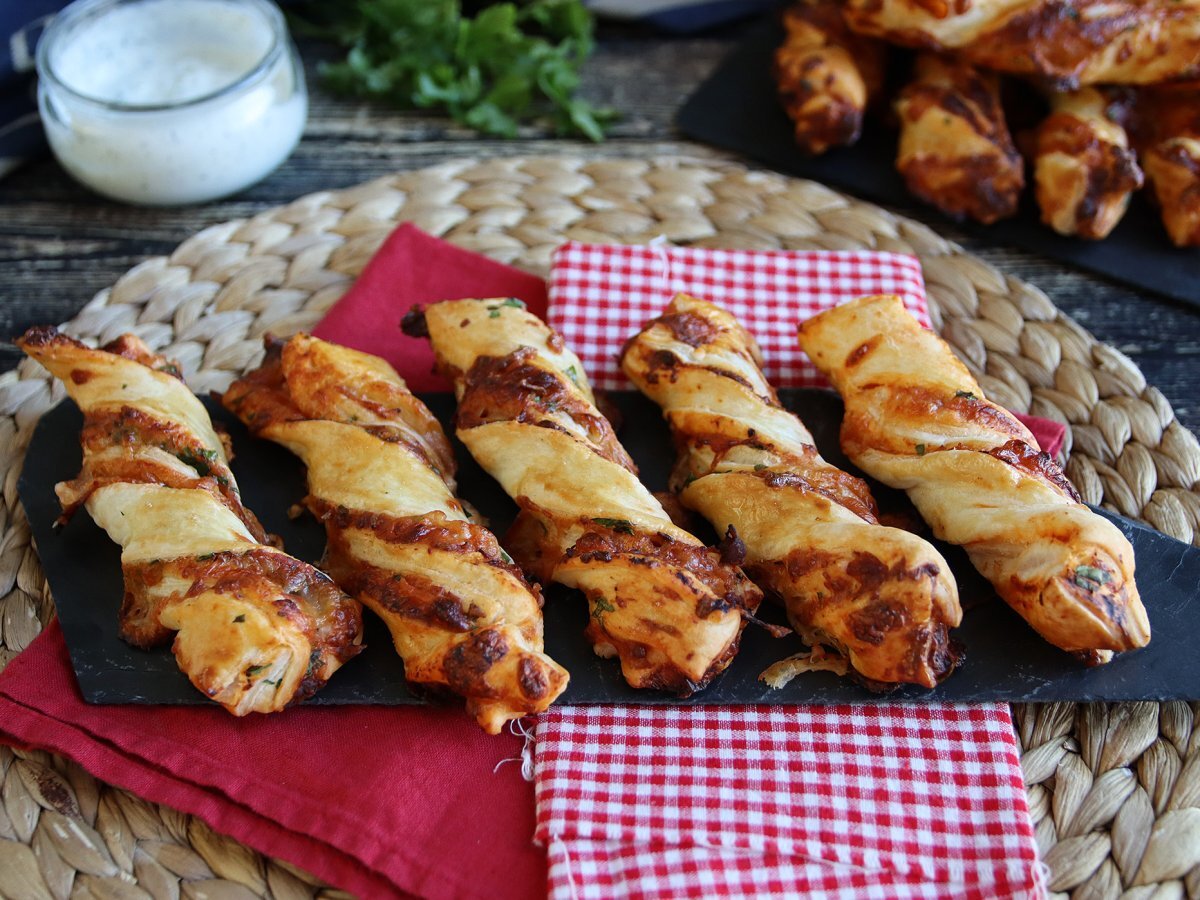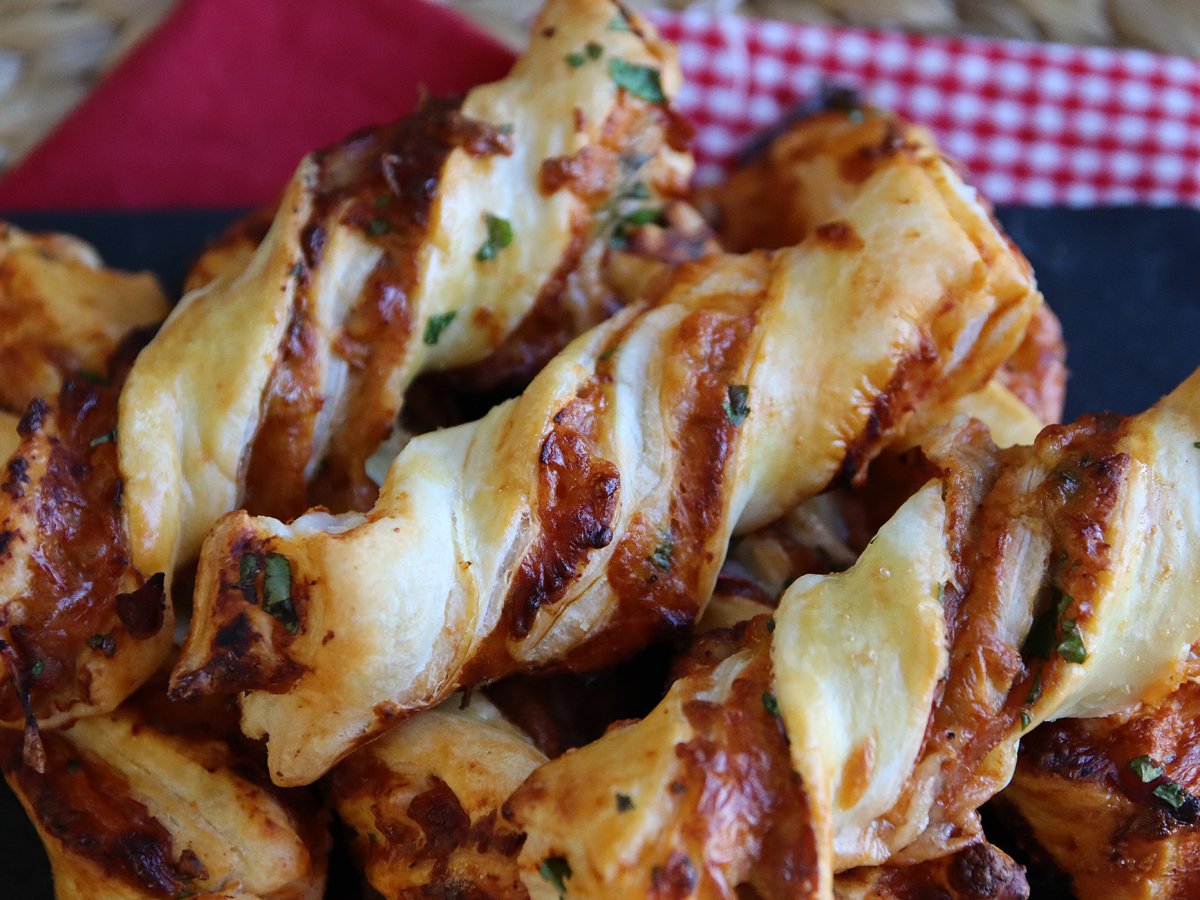 Questions:
You may like
Recipes