Classy poached pear in spicy mango nectar with mango ice cream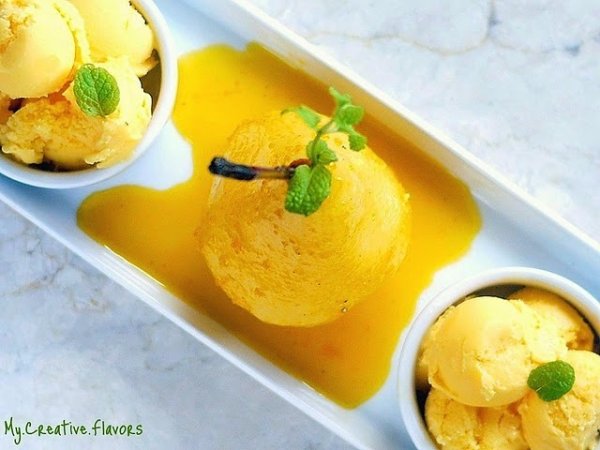 Preparation
Peel the pears and slice a bit of the bottom of the pear, so to let it stand upright.
Leave the stem intact to insert a mint sprig later, Gently dab some lemon juice over the pear and keep it aside.
In a medium pot make sugar syrup by adding half cup of sugar to one cup of water over medium heat. Let it thicken for a while.
Add mango pulp, fruit juice, orange rind with a dash of cinnamon to the sugar syrup.
The mango glaze is ready.
Submerge the peeled pears into the syrup and let it cook for 15 to 20 minutes on low heat, till the pears are tender and get the amber hue from the mango syrup.
The pears should be completely immersed in the syrup.
Let the pears cool down.
Take out the pears on a plate and garnish with either basil or mint leaf.
I did it with mint from my pot. Drizzle some syrup over the top of the pear.
Questions:
You may like
Recipes