Spicy dark chocolate ice cream -eggless
Spicy dark chocolate ice cream -eggless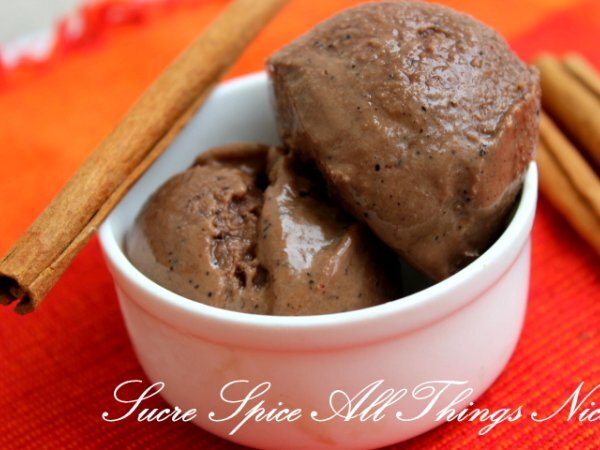 The dark, spicy chocolate ice cream is quite creamy and soft in texture. The coffee used is South Indian Filter coffee which gives a nice earthy aroma and a little-more-than-dash of cayenne pepper that gives a slight kick to this most delicious ice cream.I just love the idea of a little spice when paired with any chocolate.
Ingredients
---
---
1 cup heavy cream
---
---
2 Tbsp light corn syrup
---
Slurry
---
1.5 Tbsp corn flour
---
2 Tbsp milk
---
3 Tbsp cream cheese
---
1/2 tsp cinnamon powder
---
1/2 tsp cayenne pepper
---
---
---
1/2 cup filter coffee -can use espresso
---
1/2 cup sugar
---
1/2 cup cocoa
---
60 gms dark chocolate -chopped
Preparation
For Chocolate syrup: Boil all the ingredients for a minute and keep it aside.
Prepare the slurry with corn flour and milk and keep it aside.
Mix cream cheese with cinnamon powder, cayenne pepper and a pinch of salt.

Bring all the ingredients of ice cream base to a boil and let it simmer for 4-5 minutes. Add the slurry and boil for another minute or so till it thickens.
Strain this into the cream cheese and spices and blend well with a hand blender.Put it into a container and freeze it until cold or put it in a ziplock bag and put it in a container for 30 minutes which is full of ice.
Churn in an ice cream maker.
Questions:
Related recipes
Recipes