Easy kinder bueno roll, perfect as a birthday cake or as a christmas log!
Easy Kinder Bueno roll, perfect as a birthday cake or as a Christmas log!
We're absolutely CRAZY about the taste of Kinder Bueno! Whether in verrines, cheesecake, pie, or spread, you will never get tired of this inimitable taste of hazelnuts and chocolate...
But as that was not enough for us, we tackled an absolutely delicious, soft and greedy rolled cake that can serve as a birthday cake but also be your future log for Christmas. A fluffy sponge cake, a light whipped cream, in short, we're still salivating!
Follow our step by step steps to achieve this little wonder :-)
Materials
1 chopper
1 pastry robot (or electric mixer)
1 spatula
1 sponge cake pan (or baking tray)
parchment paper
1 damp cloth
1 brush
Preparation
Kinder Bueno Spread:
Mix the blanched toasted hazelnuts (see comments) with the melted white chocolate until you obtain a homogeneous cream.

Sponge cake:
Beat the egg whites then add the sugar little by little while mixing.
Then add the egg yolks and vanilla extract and whisk well to obtain a light mixture.

Finally incorporate the sifted flour using a spatula. Your cake batter is ready: pour the mixture into a greased sponge cake pan, spread well and smooth the top with the spatula.

Bake the sponge cake for 12 minutes at 350°F (180°C).
Put the cream and the mascarpone in the freezer during the cooking time.

Leave the sponge cake to cool completely under a damp cloth.

Vanilla whipped cream:
Beat the very cold cream and mascarpone with the sugar and vanilla until you obtain a very thick and creamy mixture.

Soak the entire surface of the sponge cake by brushing the coffee on top.

Spread the Kinder Bueno cream over the entire surface of the sponge cake. Cover with vanilla cream. Keep some for the top of the roll.

Gently roll the sponge cake and transfer it to the platter that will be used for serving.

Cover with cream on top then place in the fridge for at least 30 minutes.

Decorate the roll:
You can add pieces of Kinder Bueno, roasted hazelnuts, crispy chocolate balls...
You tried this recipe ?
Mention @petitchef_en and tag #petitchef
Cookware
Observations:
Can I replace the roasted hazelnuts?
You can use classic hazelnuts that you will roast for 10 minutes at 410°F (210°C) before peeling them. To remove the skin, nothing simpler: just wait for them to cool and roll them in a kitchen towel or in your hands.

Can I decorate the cake differently?
To make a Christmas log, for example, you can simply put crispy chocolate balls. You can also grate white chocolate and sprinkle it over the cream, for example.

What can I replace Kinder Bueno spread with?
You can replace it with hazelnut chocolate spread, for example.

How to store this roll?
You can place it in the fridge undecorated wrapped in cling film for 3 days and decorate it at the last moment!

Can I replace the coffee in this cake?
You can replace the coffee with syrup (you can use cane sugar syrup or make it yourself without worries) for example or milk.
Photos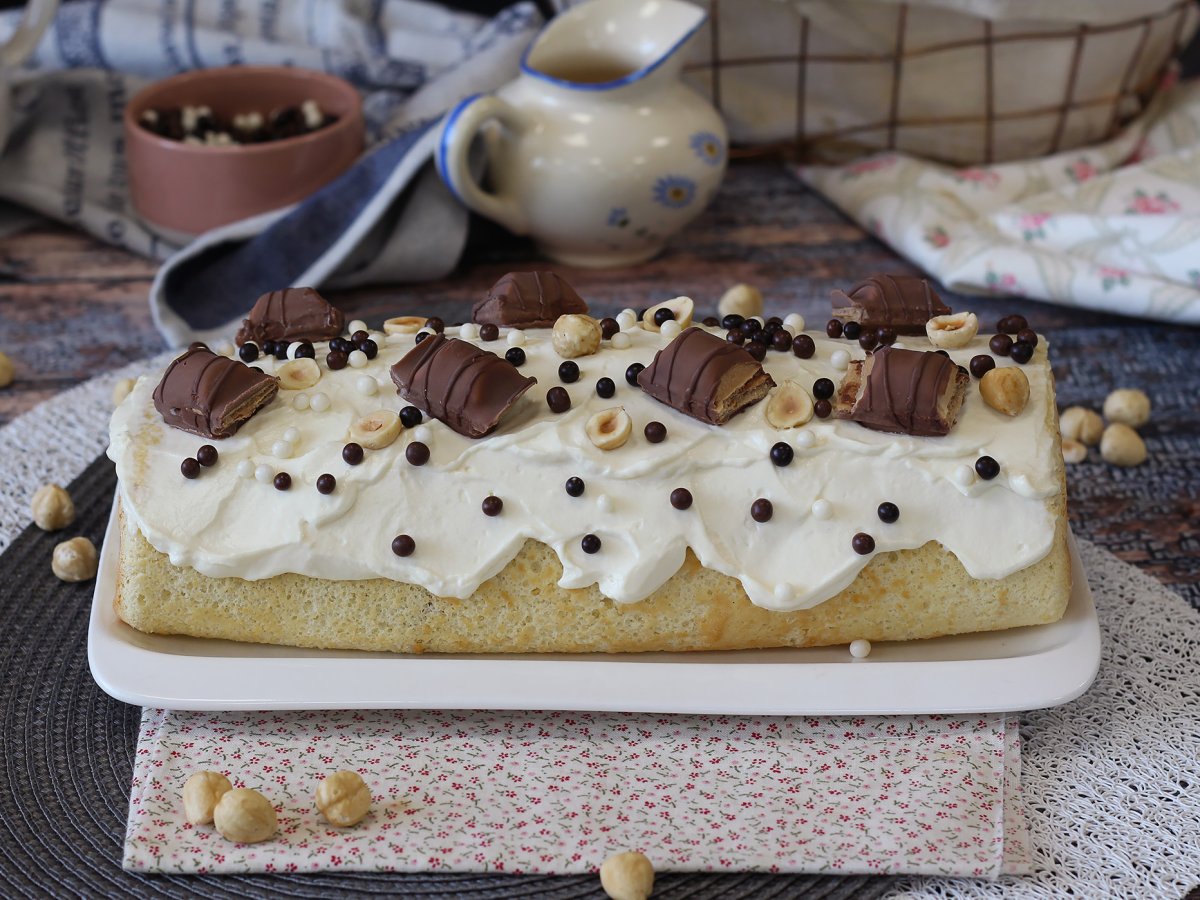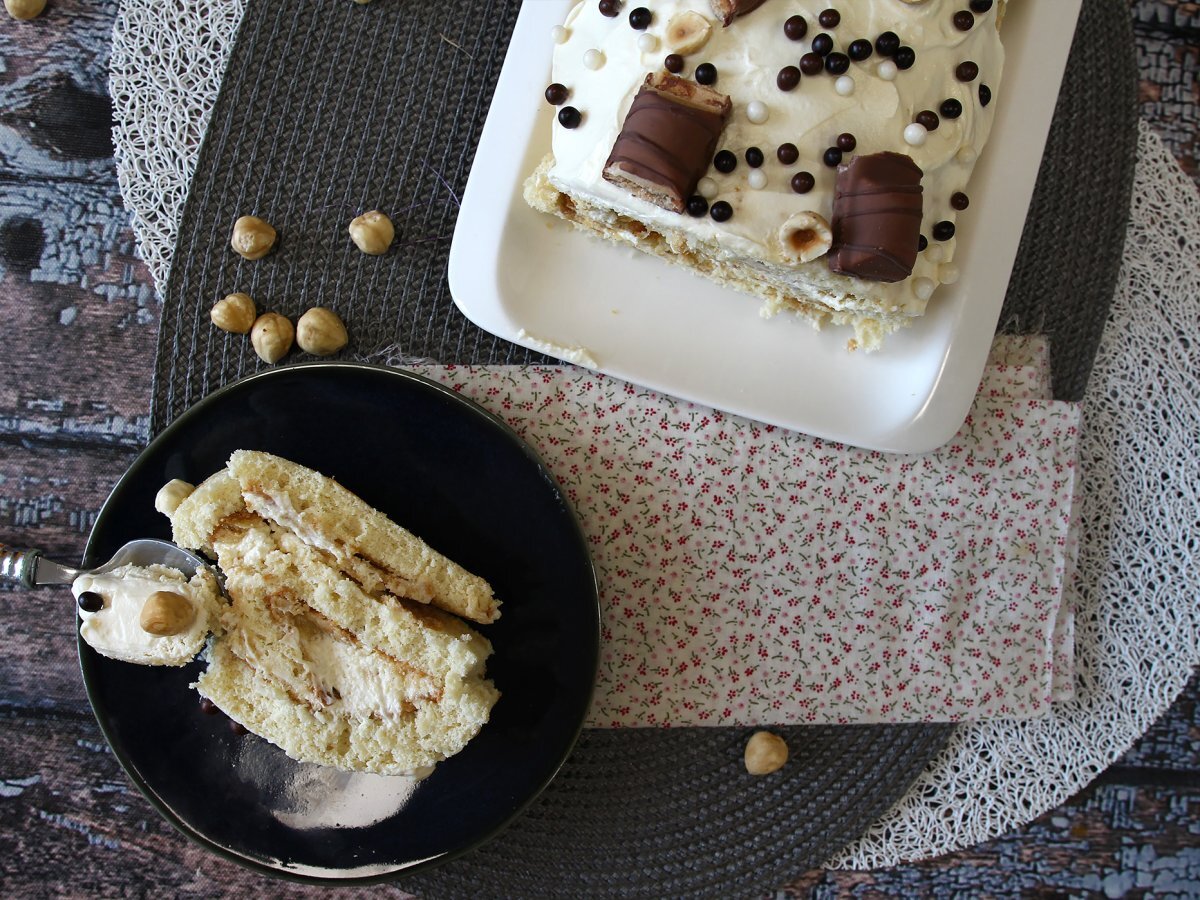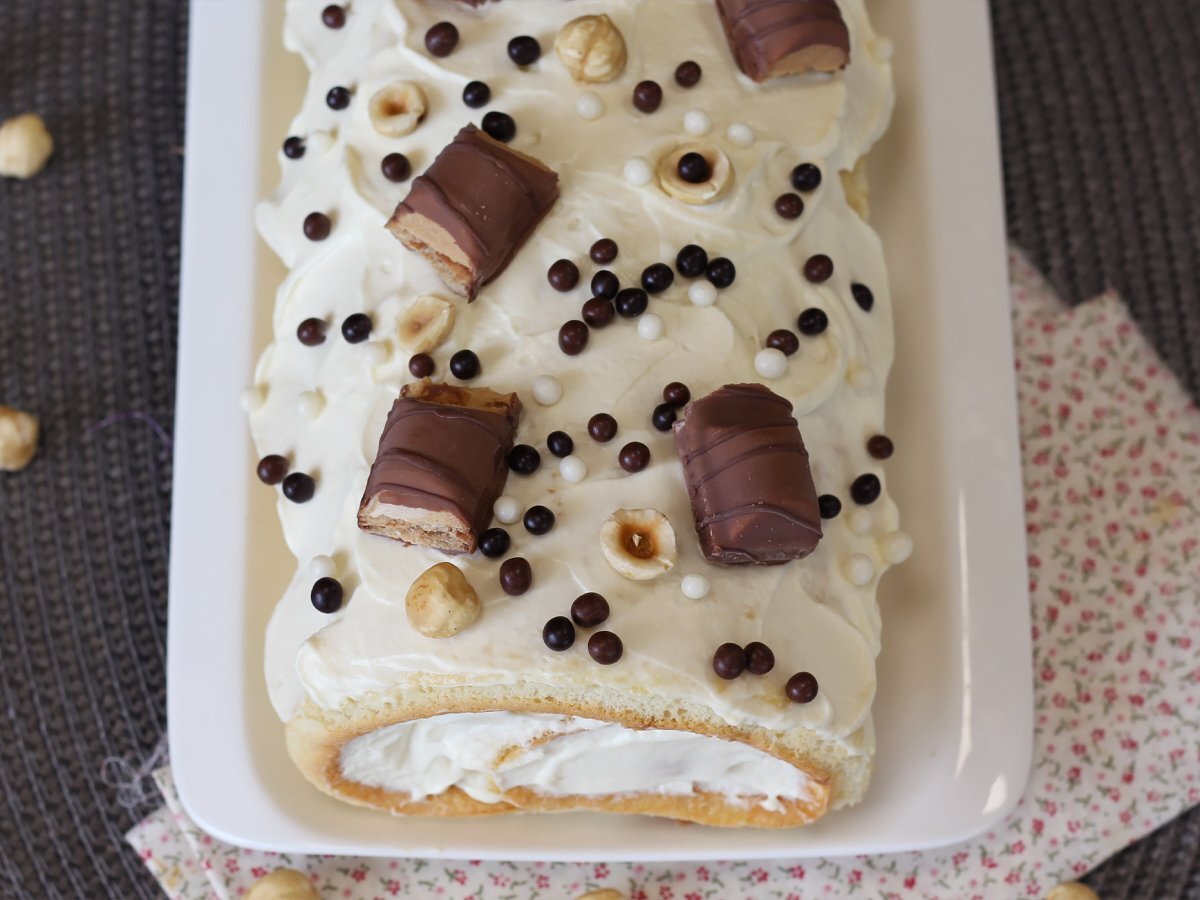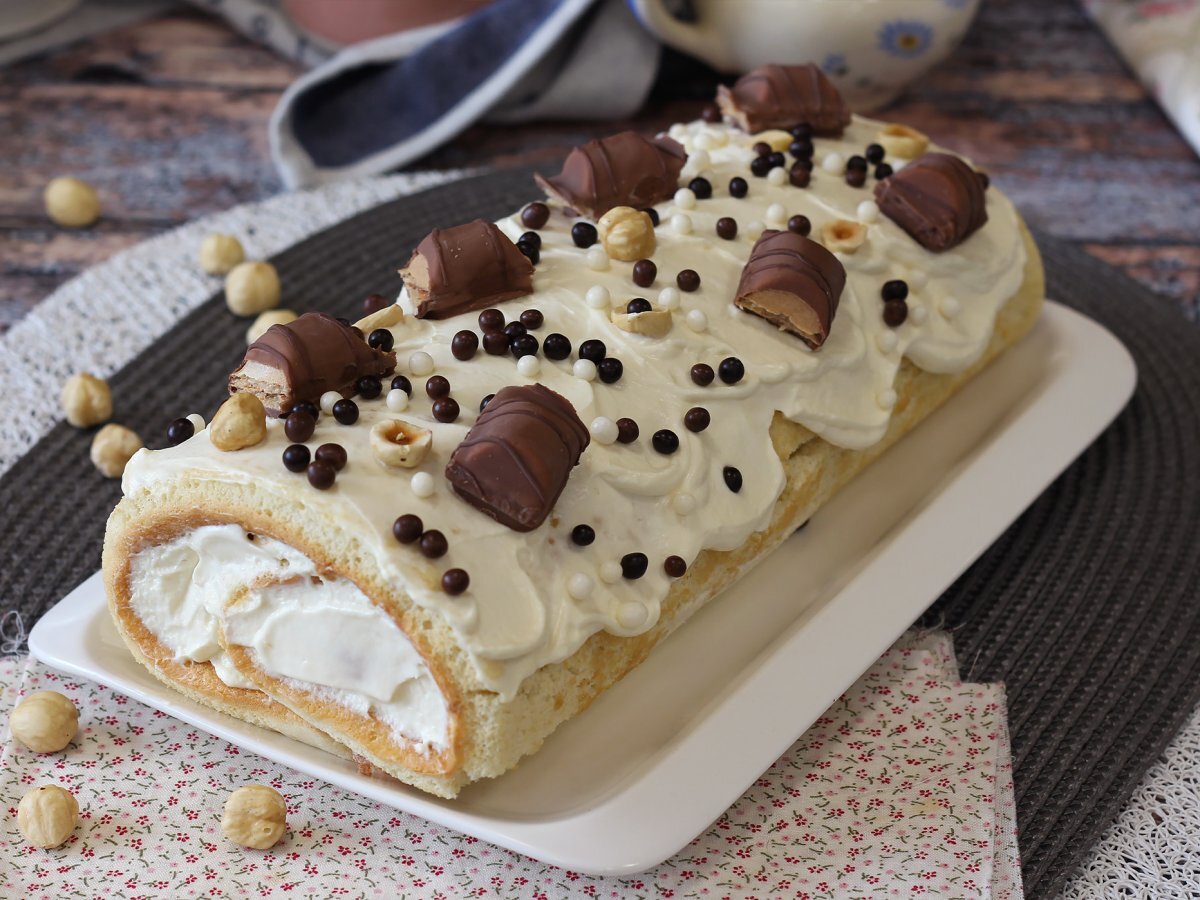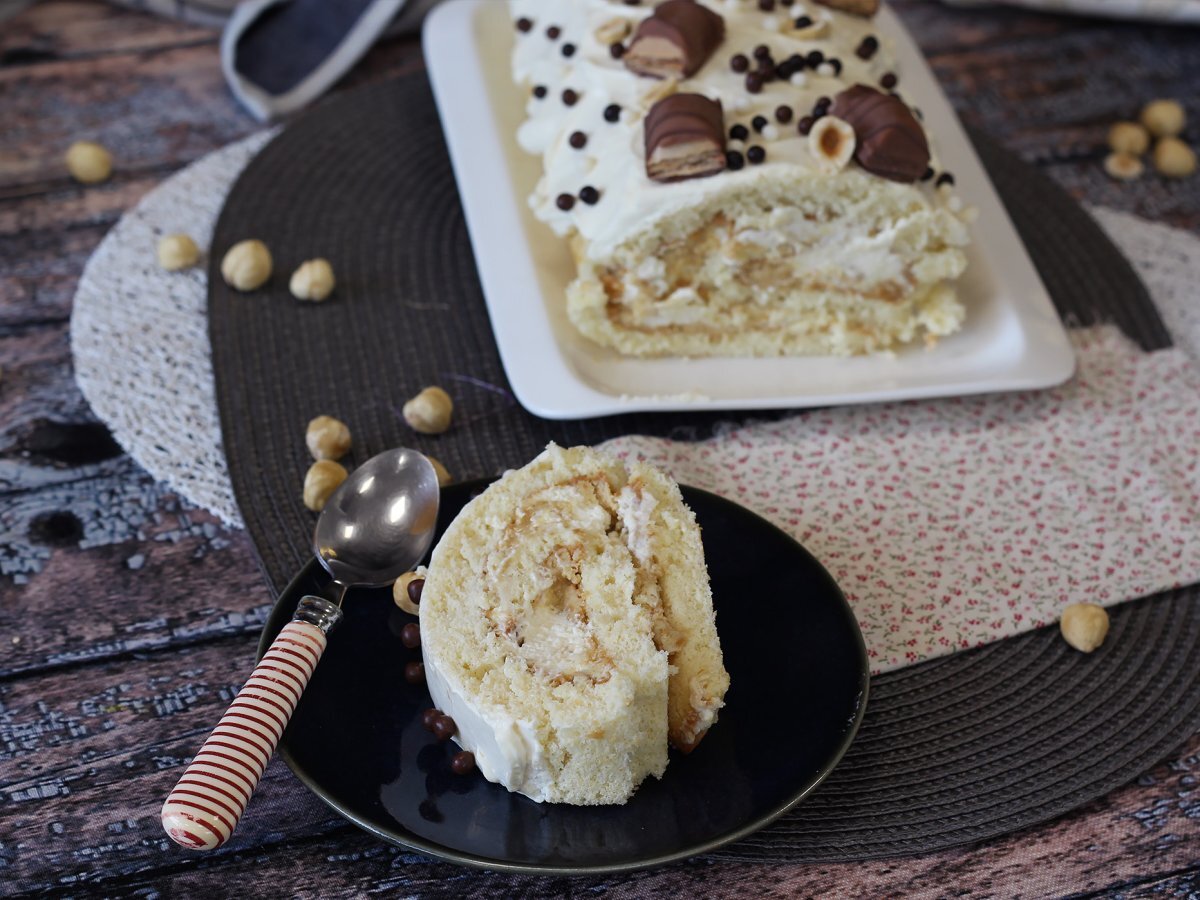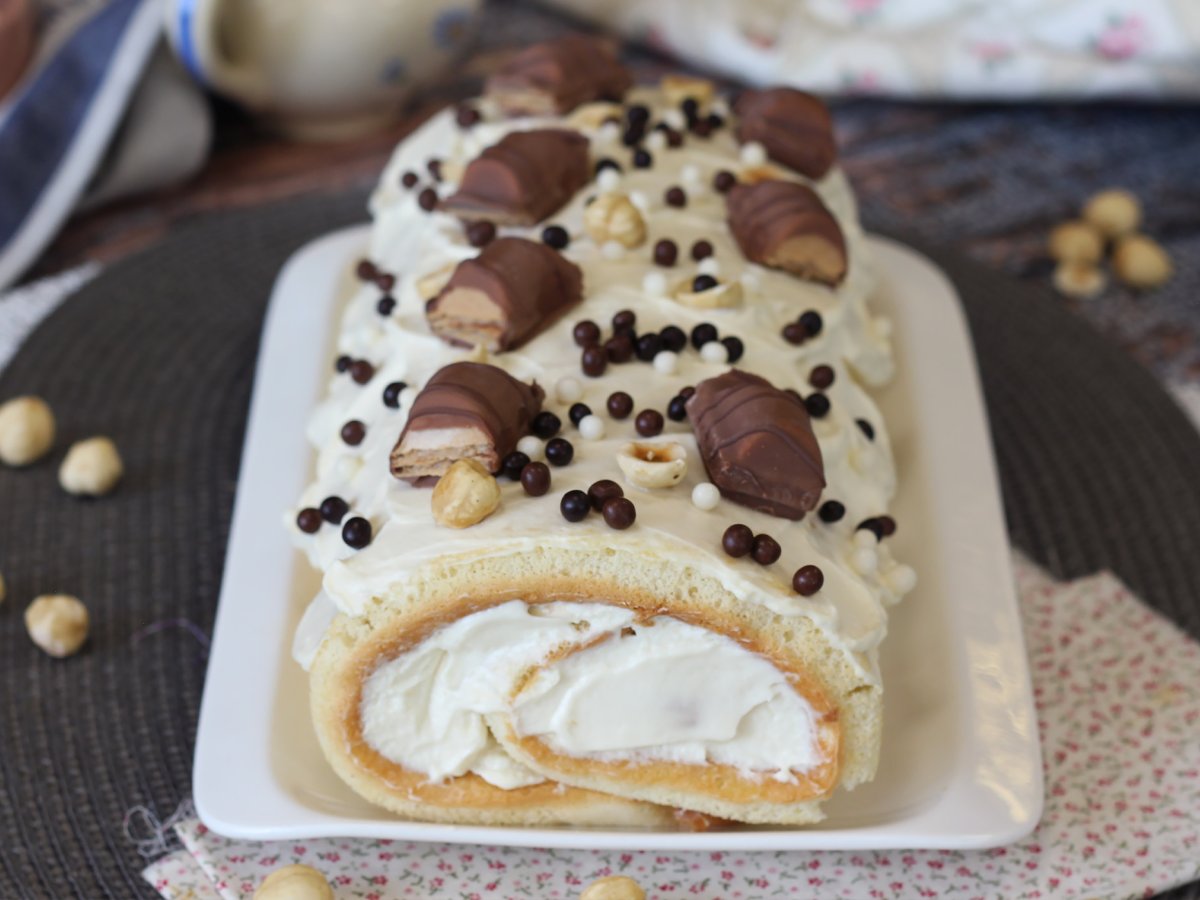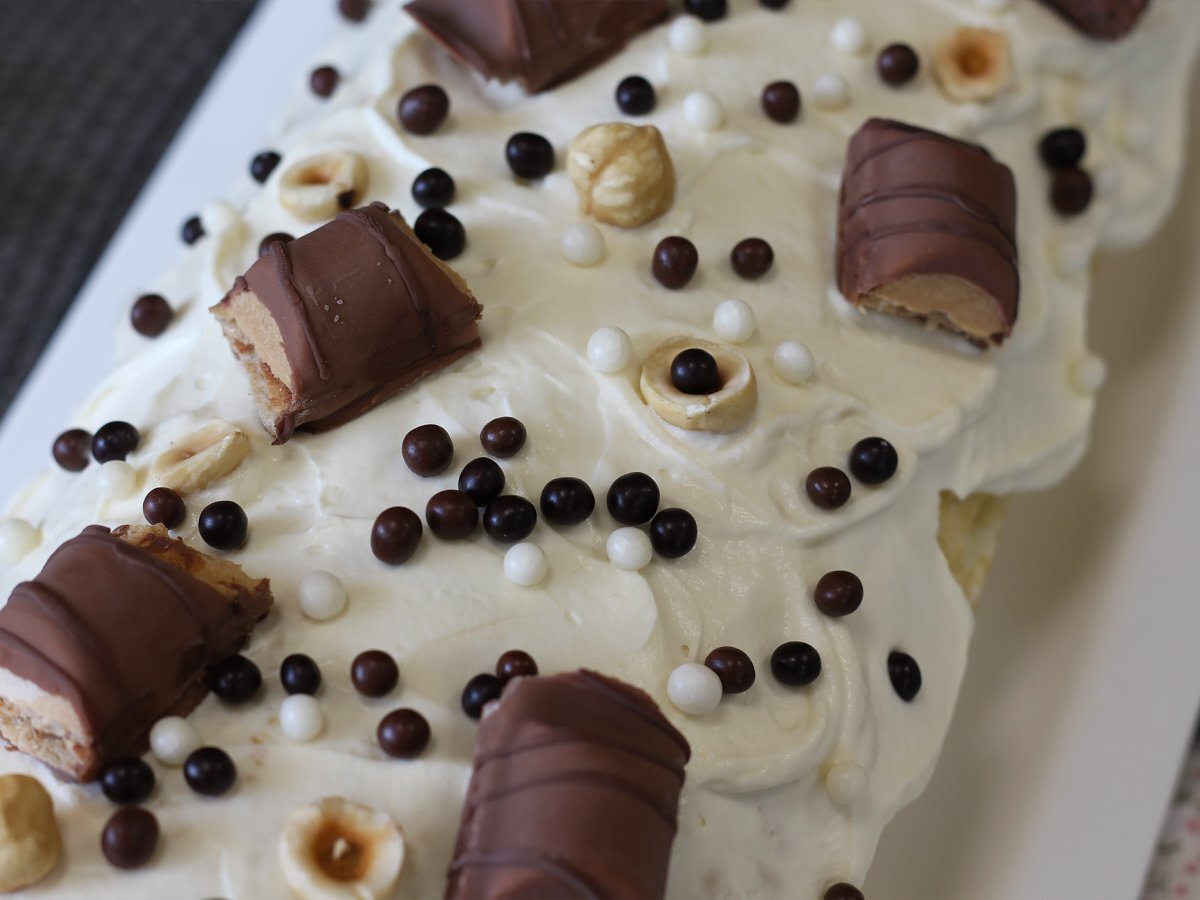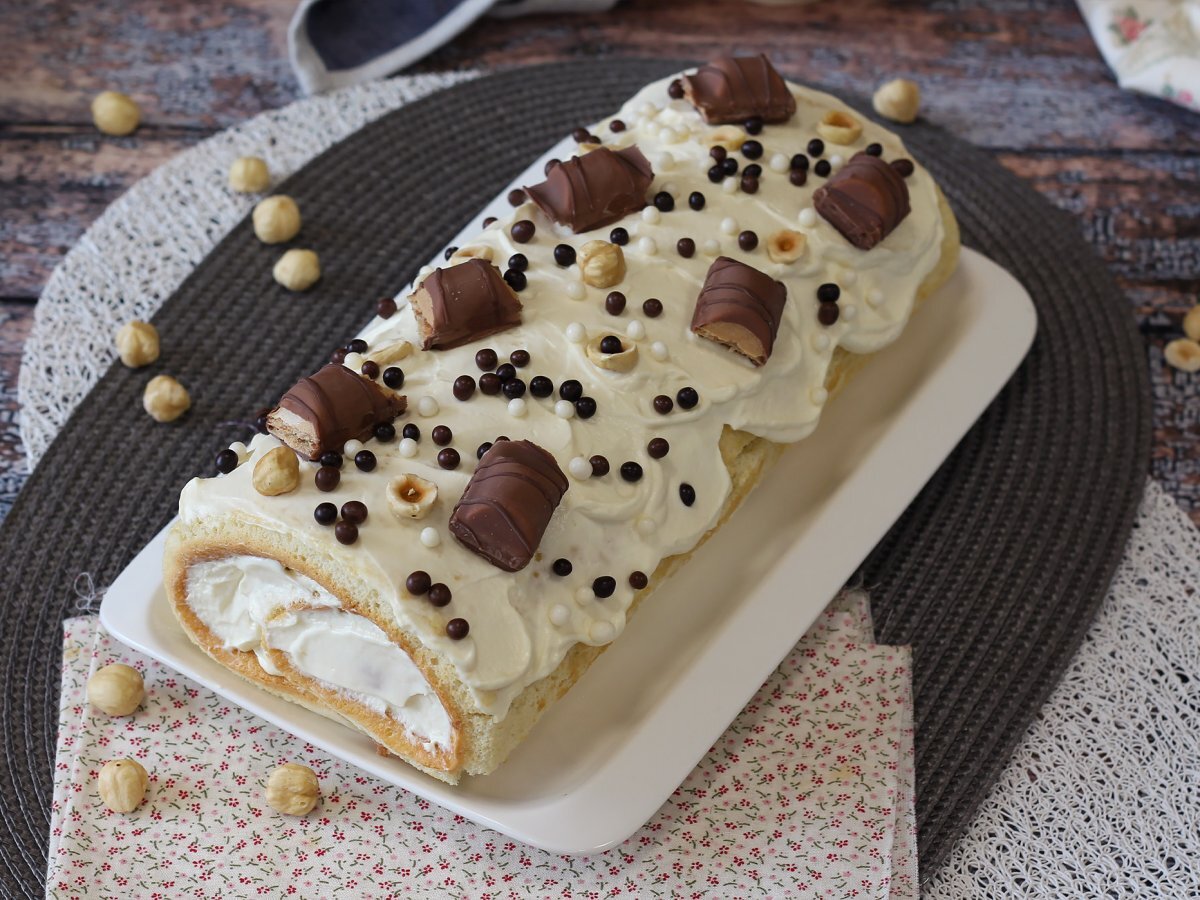 Questions:
You may like
Recipes
Related articles
<! -- HB slmads - AD akcelo-->