Spiced apple and pear pie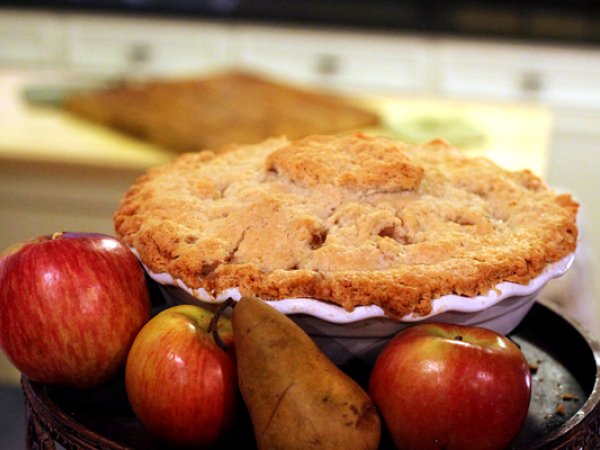 Preparation
Peel and core fruit. Slice the fruit into 1/4 inch slices.
Before slicing, cut each fruit in half and place cut side on the board to ensure the fruit and your knife wont slip anywhere it shouldn't be like to your finger.
Melt the butter in a large sauce pan. Add the fruit and cook, stirring frequently over medium heat for five minutes.
Measure the sugar and spices–ginger, nutmeg & cinnamon–into a bowl. If you have fresh nutmeg, grind it into the bowl eyeing it to your best ability.
Add the sugar, spices and lemon zest to the pot with the apples and butter. Stir and cook until the sugar has dissolved and the sauce has thickened slightly, about ten minutes.
Add the cream to the apples and sauce and cook until the sauce has thickened, about five minutes.
Strain the apples from the sauce, reserving the sauce. If the sauce is very thin, add it back to the pot and boil down until thicker.
Roll out the bottom crust and place into the pie crust. Use a portion of the melted butter to brush over the dough before adding the filling. Add the filling.
Pour 1 cup of the sauce over the apples and pears before topping the pie. Top the pie with the other half of the crust.
Brush the top of the pie crust with the rest of the melted butter and bake for 1 hour in a preheated oven at 375 degrees.
Questions:
You may like
Recipes
Related articles