Raclette and potatoes cake - video recipe!
Raclette and potatoes cake - video recipe!
or
Winter gets its treats as well ! Here is a salty cake, filled with the delicious cheese that is raclette!
Have a try at it!
Ingredients
---
---
- 7 ounces Raclette cheese (or sharp cheddar)
---
- 4.5 ounces prosciutto
---
- 1 cup flour
---
---
---
---
- salt
---
- pepper
Materials
Springform pan
---
Preparation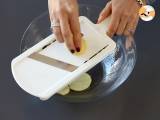 Step 1
Peel the potatoes and slice them thinly using a mandolin.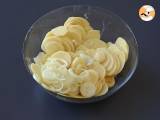 Step 2
Do the same with the onion, and put it all in a big bowl.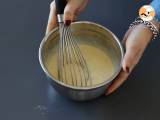 Step 3
Mix the eggs with the flour, then gradually pour the milk. Add salt and pepper.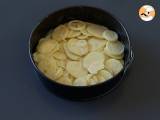 Step 4
Pour the batter in the potatoes and mix well. Grease a springform pan, and put half the potatoes in it.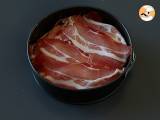 Step 5
Arrange the cheese and the prosciutto on it, then cover with the remaining potatoes. Smooth the top.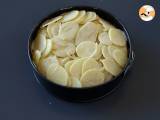 Step 6
Bake 1 hour at 350°F (180°C).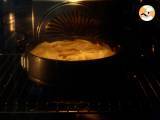 Step 7
There you are, your Raclette and potatoes cake is ready !
---
---
Related recipes
Recipes
Related articles