Basque Cake, a Southwestern French dessert
Basque Cake, a Southwestern French dessert
Let's go to the French Basque country, where Biarritz is, to taste this wonderful cake. A shortbread pastry filled with vanilla custard had someone named it the "Happy Cake", because everyone is smiling when they take a bite ! So why don't you ?
Materials
A 11 inches diameter springform pan.
Preparation
For the pastry :
In a bowl, mix together the flour, the salt, the sugar and the baking powder.

Add softened butter, and mix with your hands. Then, rub it between your hands to make it look like sand.

Add the 2 eggs and the vanilla extract, and knead the dough. Once the dough takes form, put it in the fridge. The dough is supposed to be sticky, so don't add any flour, it will get harder in the fridge.

For the pastry cream :
Slice the vanilla pod and take the seeds out. Put them in the milk with the pod, and put it in a pot to boil.

Meanwhile, mix the yolks and the sugar together and whisk until it gets creamy and white. Then add the flour and mix well.

Once the milk has boiled, gradually add it to the previous mix. Then, pour everything back in the pot.

Stir constantly, on medium heat, with a wooden spoon, until the mix thickens (about 10 min). Take it out of the heat, and cover with cellophane paper so it doesn't get a skin.

Assembly :
Butter and flour the springform pan. Take the dough out of the fridge and divide in 2/3 - 1/3 . Take he larger part and put it in the mould.

Using your hands, cover the bottom of the pan. You can use a rolling pin, but since the dough can get sticky pretty fast, it's easier to use your hands. If the dough gets to sticky, put some flour on your hands.

Once the bottom has been covered, take the edges up about 1.5 inch. Smooth the dough.

Add the pastry cream, which shouldn't be too hot, and smooth the top with a spatula.

Fold back the edges.

Take a wax paper sheet, and roll out the remaining dough as a circle the same size of the pan. The turn it on the cake, and press a little bit on the edges, then gently take the wax paper sheet off.

Use the full egg yolk to golden the cake with a paper towel. Use it to smooth the asperities.

Using a fork, without to much pressure, draw 4 vertical stripes, then turn the pan 45°, and draw 4 other vertical lines, which will form diamonds.

Bake 40 minutes at 320°F (160°C), then wait until the cake cools down to unmould it.

There you are, your Basque Cake is ready ! Don't hesitate to watch the video to help you understand the technical parts. And bon appétit !
Nutritional informations:
for 1 serving
/
for 100 g
Nutrition:
Nutritional information for 1 serving (254g)
Carbo:

113g

Total fat:

16.9g

Saturated fat:

9.1g

Proteins:

18g

Fibers:

3.5g

Sugar:

55g

ProPoints:

18

SmartPoints:

28
Photos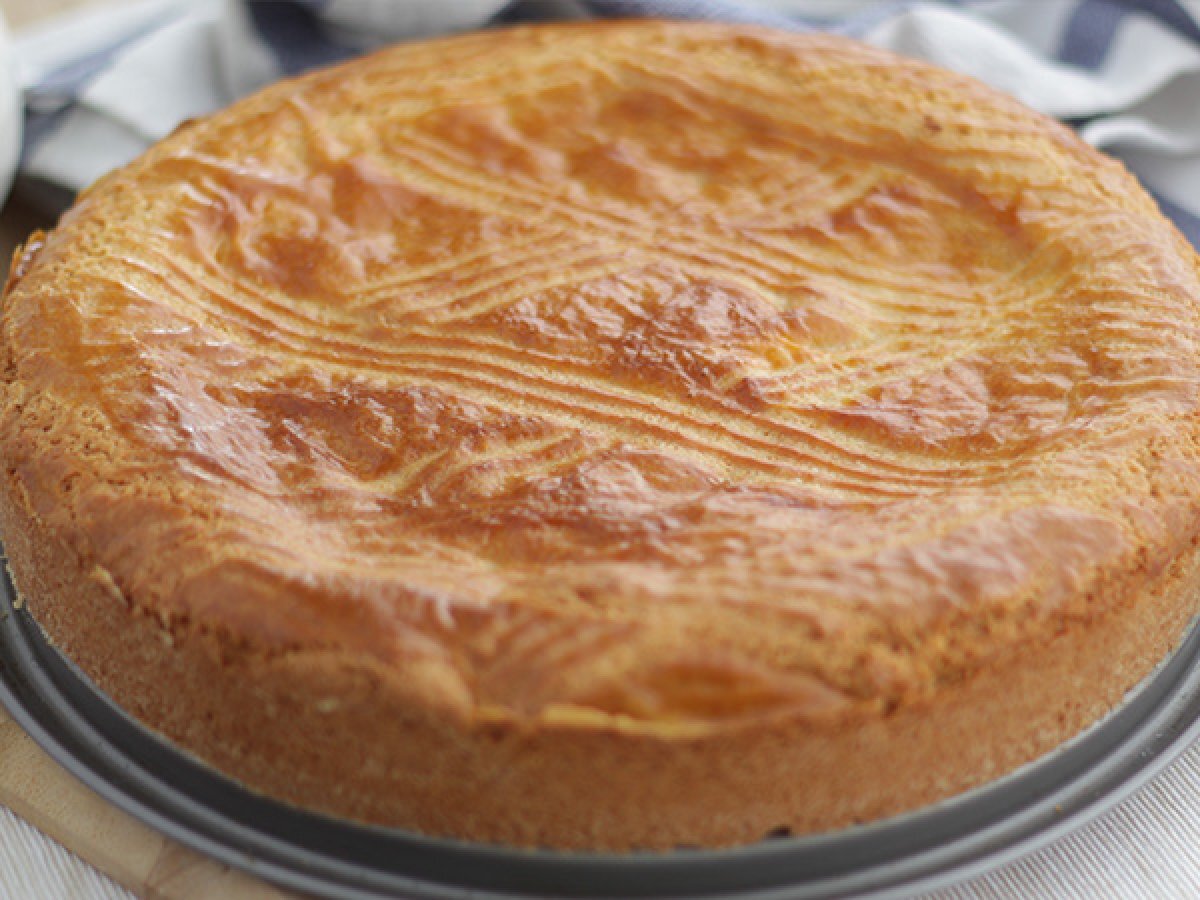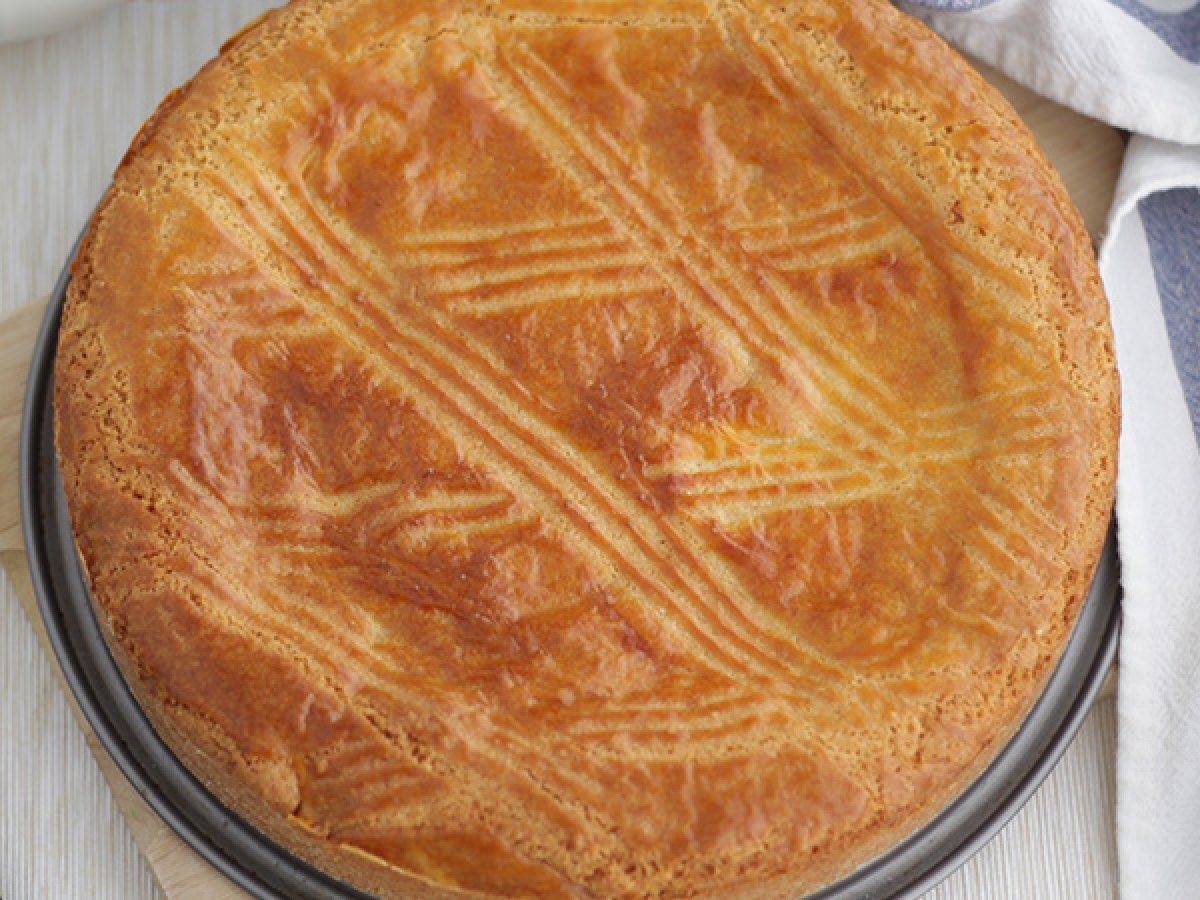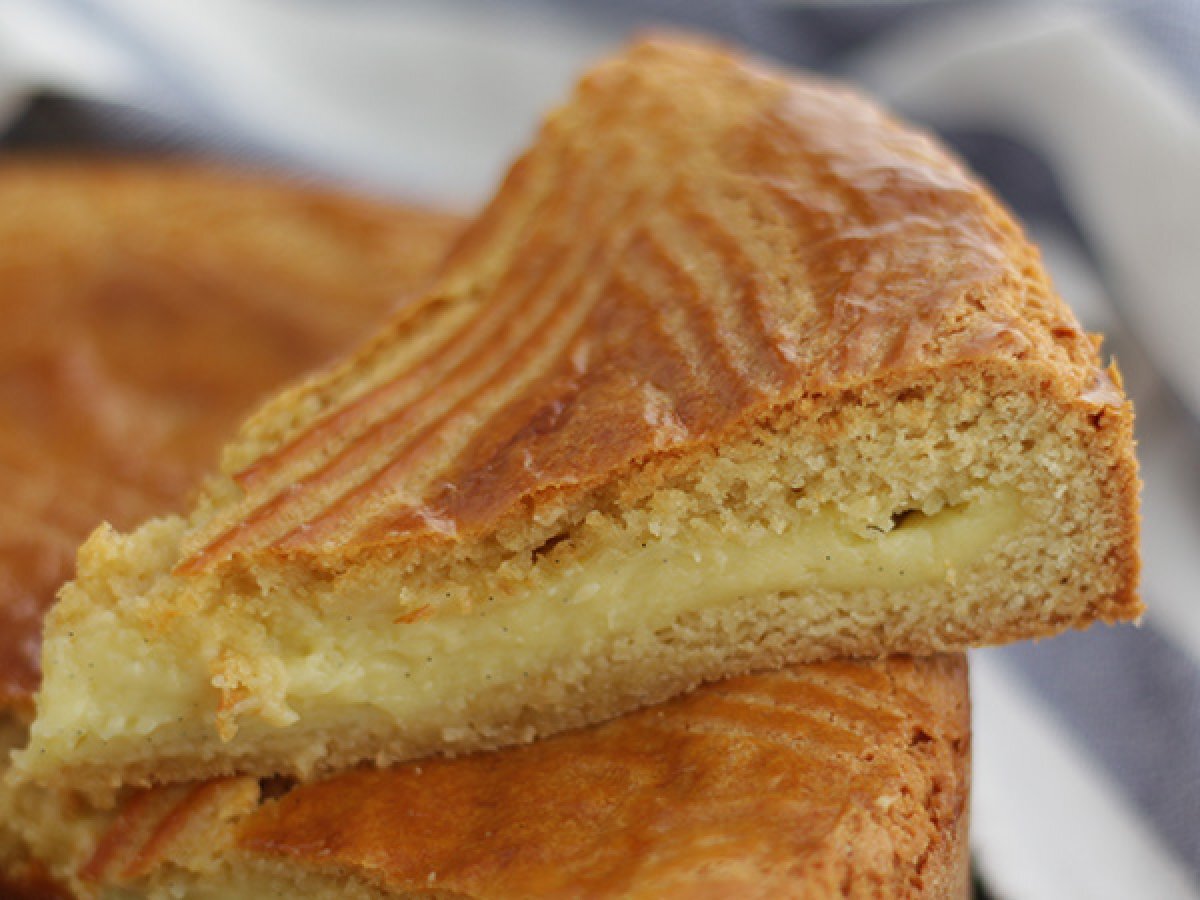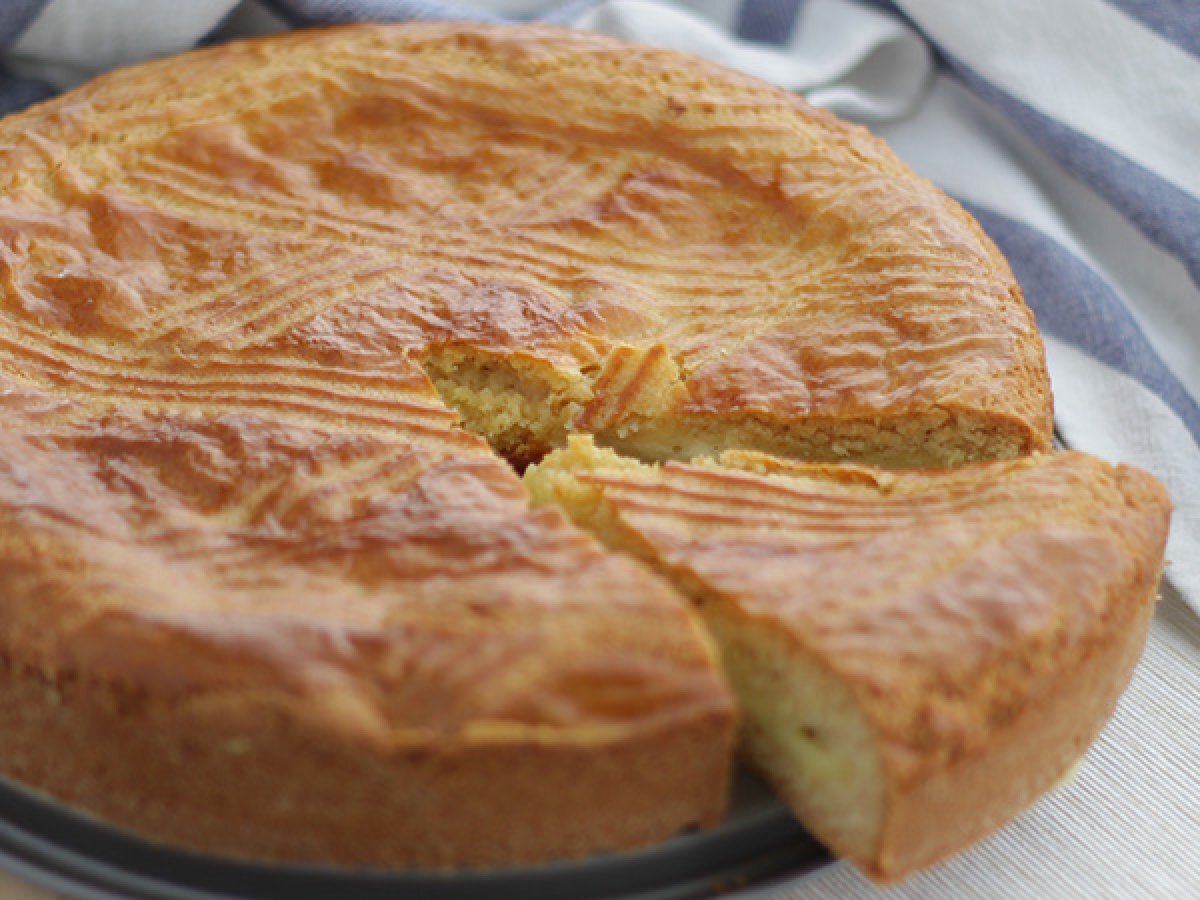 Questions:
You may like
Recipes
Related articles