Grilled shrimp with banana and black bean salad
By
lovestoeat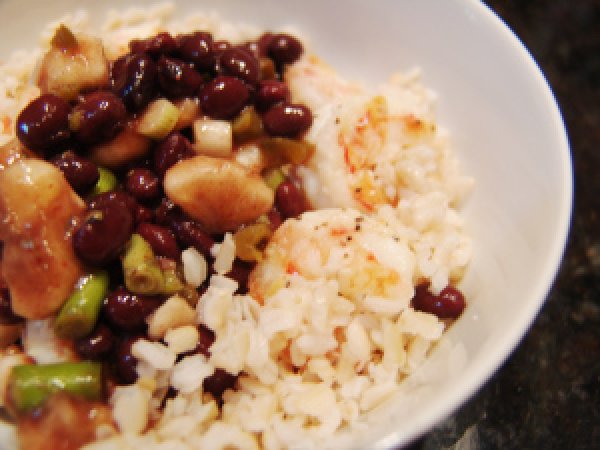 Recipe type:

Starter

Number of serving:

2 servings

Preparation:

10 min

Cook time:

65 min

Ready in:

1 h, 15 m

Difficulty:

Very Easy
Ingredients
- 1 cup dried black
beans
(soak over night)
- 2 semi firm
bananas
(some green showing, peeled and chopped)
- 1 small red
onion
(chopped)
- 3 small
jalapeno
peppers seeded and chopped
- Juice of 1 lime
- 2/3 cup packed fresh cilantro
- 2 teaspoons chilli powder
-
Olive oil
for coating grill
- 6-6 ounces tilapia fillets
- 1 teaspoon fine grain sea salt
- Fresh ground black pepper
Preparation
Step 1
Rinse soaked beans with cold water. Place in a large sauce pan and bring to a boil over high heat.
Step 2
Reduce heat to med-low and simmer until tender about 1 hour. Drain and rinse cooked beans .
Step 3
In a large bowl combine beans, bananas, onion, jalapenos, lime juice, cilantro and 1 teaspoon chilli powder. Cover and refrigerate until ready to serve.
Step 4
Season the fish with salt, pepper, and 1 teaspoon remaining chilli powder. Grill over med-high heat 3-4 minutes/side.
Step 5
Serve.
Questions:
By
lovestoeat

---
---
Related video
Related recipes
Recipes
Related articles