Salad with grilled pear, blue cheese and walnuts
You can easily combine this salad with any main course. Arugula with grilled pear, walnuts and blue cheese is a mix to surprise your guests or to serve in the end of the festive dinner.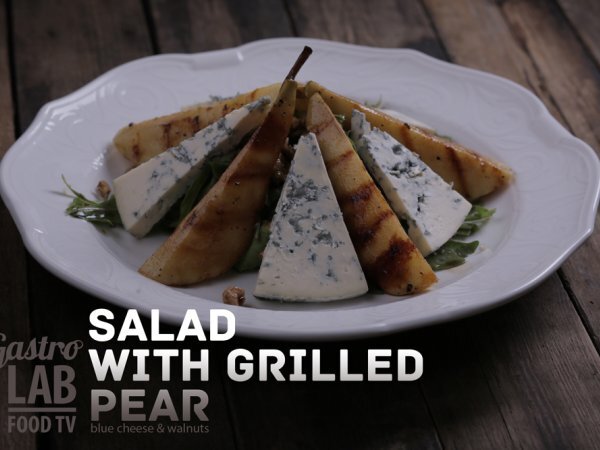 Recipe type:
Starter
Number of serving:
2 servings
Preparation time:
5 minutes
Cook time:
20 minutes
Ready in:
25 minutes
Difficulty:
Easy
Ingredients:
2
pears
100 g. arugula
80 g.
walnuts
200 g. blue cheese
40 ml. maple syrup
30 ml. black
balsamic vinegar
salt
to taste
For dressing :
50 ml. of white vinegar
40 ml. maple syrup
100 ml. olive oil
Preparation:
Step 1:
Cut pears into 4 pieces, remove core. Then cut each piece into half. Place into bowl, combine with syrup and balsamic vinegar. Mix well. Sear on grilling pan to golden crust. Toast walnuts, remove all husk.
Clean arugula from cuttings, drain with paper towel. Cut cheese into slices. Chop walnuts finely.
Spread some arugula leaves on plate, put some pears on top. Sprinkle with walnuts, pour with dressing.
Step 2:
Tips:
Pears can be replaced on nectarines.
Step 3:
You can also use mangold leaves.
Step 4:
You can also use different cheeses: roquefort, stilton, aged manchego, brie, gorgonzola.
Step 5:
Pour salad with dressing right before serving to avoid losing freshness and crunchiness.
Questions:
Related video
Related recipes
Recipes
Related articles