Vegetarian sushi salad
Vegetarian sushi salad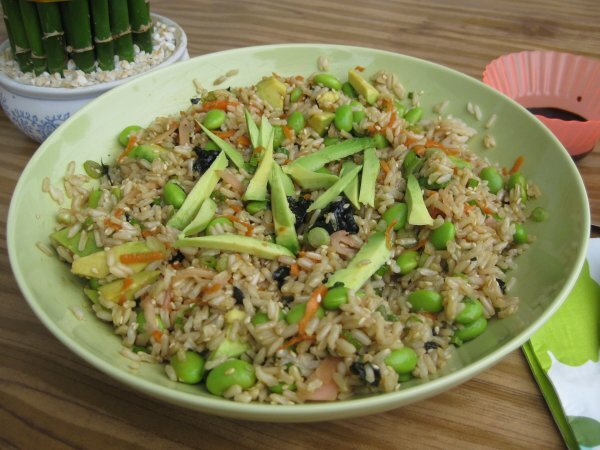 A taste of sushi in salad form.
Ingredients
---
2 cups water
---
---
1 tsp vegetable oil
---
3/4 cup edamame, shelled and cooked as per package directions
---
---
1/3
avocado
, pitted and thinly sliced (or as much you want)
---
1 tbsp sesame, toasted
---
2 green onion,thinly sliced
---
1 tbsp pickled
ginger
, thinly shredded*
---
3 roasted seaweed (3"x 2")**
---
1 tbsp tamari ( wheat free soy sauce)
---
1 tbsp rice vinegar
---
1/2 tbsp granulated sugar
---
1-1.5 tsp wasabi
---
1/2 tsp red chilli flakes (optional, I added after taking the picture)
---
* I made my own pickled ginger by following the recipe from here.
---
** roasted seaweed comes in snack packs. It is crunchy, thin and vegan.
Preparation
Place brown rice, salt, oil and water in a saucepan. Bring to boil, reduce heat and cook covered until tender and done. Remove from heat and cool to room temperature. In a small bowl, stir wasabi, rice vinegar, sugar and tamari. Set aside.
Transfer rice to a bowl. Add sesame, shredded carrot, sliced avocado, edamame, green onion and pickled ginger. Cut the seaweed into strips or break into small pieces. Add it to the salad.

Drizzle dressing over salad and toss. Garnish with more avocado and serve.
Questions:
Related recipes
Recipes