Puliyodharai(Tamarind Rice) - Tamil Brahmin Style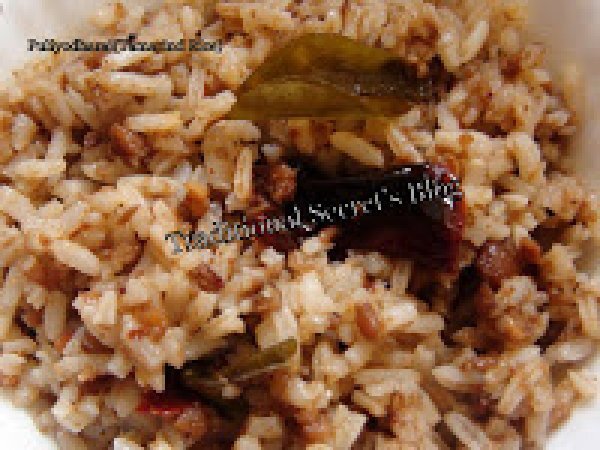 Preparation
Cook Rice separately as per your need, and set aside to cool, it would taste better if each grain is separate. Soak tamarind well in advanced, squeeze out the thick pulp and sieve well.
Dry Roast & Coarse grind Chana dal,Urad dal,Peanuts,Red chillies,cinnamon stick,cloves,jeera,Black Sesame seeds, together.
Dry roast & coarse grind Fenugreek seeds,coriander seeds and set aside separately. Heat 2 -3 table spoons of oil,add all the powdered ingredients and allow to fry well until you get aroma.
Add Hing,Turmeric powder, now add 1 tsp of the powdered fenugreek & coriander powder which was set aside ,then add Salt and add all of the tamarind pulp, allow to cook well to let go off the raw smell of tamarind, add jaggery.
Cover and simmer in a non - stick pan over low flame for 7-10 minutes,The best way to check if cooked is when the oil shows up on the surface. Take a separate pan for seasoning and add all the remaining oil splutter, mustard seeds, dry red chillies,chana dal,urad dal,& Curry leaves, take it off the stove.
Mix with the tamarind sauce which is cooking & remove from stove. Mix with cooked rice as per requirement and you could garnish it with,fried or roasted peanuts. Serve Hot & Enjoy.
Questions:
You may like
Recipes