Corn soup with coriander (visit site!)
Corn soup with coriander (visit site!)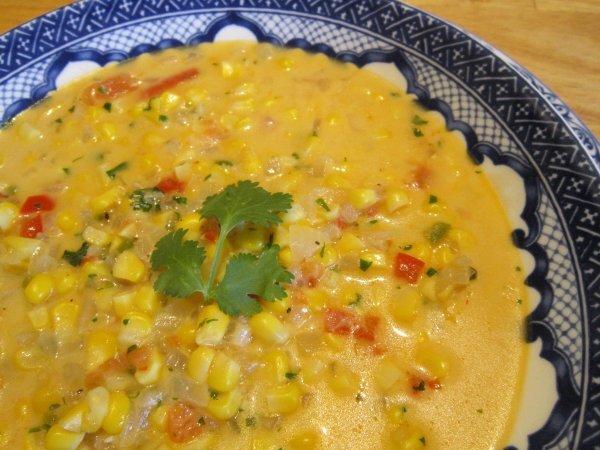 You'll love this sweet, spicy, and exceedingly fresh tasting soup!
Ingredients
6 ears of corn
---
---
2 large onions, minced
---
2 small red peppers, chopped
---
1/2 teaspoon chili pepper flakes, or to taste
---
---
---
---
1 cup milk or light
cream
---
Salt and freshly ground black pepper, to taste
---
Leaves from a bunch of coriander (cilantro), roughly chopped
Preparation
Shuck the corn, and with a small knife shave the kernels from the cobs. (Click my "Techniques" tab for tips on removing corn from the cob.) Melt the butter in a large soup pot over medium heat, and saute the onions until translucent. Add the corn, red peppers, and chili flakes and saute for 5 minutes. Add the jalapeno, tomatoes, and chicken stock; simmer for 15 minutes. Add the milk and heat through. Season with salt and pepper to taste. Stir in the chopped coriander, and serve.
Questions:
Related recipes
Recipes