Chorizo recipes
Chorizo with Fennel
3 recipes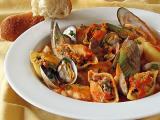 Main Dish
Very Easy
20 min
1 h 10 m
Ingredients
: 1 2 cup olive oil, plus more for drizzling 3 clv garlic, minced 2 large shallots, roughly chopped 1 fennel bulb, stalks and fronds trimmed off, co...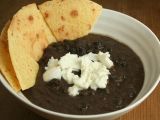 Main Dish
Very Easy
10 min
15 min
Ingredients
: 1 cup black beans 1/2 bulb fennel, roughly chopped 1/4 cup chorizo 1 small white onion, finely chopped Salt, to taste Corn tortillas or chips, to ser...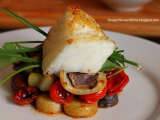 Here's an impressive meal to serve the next time you have dinner guests - assuming Chilean Sea Bass is south of $40 a pound! Really any seafood would do...I imagine it would be equally delicious with the likes of halibut, salmon or shrimp.