Sandwich with Lamb
3 recipes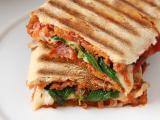 Main Dish
Very Easy
5 min
5 min
Ingredients
: 1 panini bread 5 slices chorizo 2 slices emmental cheese 1 handful lamb's lettuce 1 handful arugula 1/4 cup tomato sauce 2 Tbsp olive oil 1 tsp...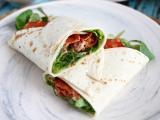 Main Dish
Very Easy
5 min
5 min
Ingredients
: 1 wheat or corn tortilla 5 chorizo slices A handful of lamb's lettuce 10 cherry tomatoes 1/2 avocado Sauce : 2 Tbsp mayonnaise 1 tsp garlic p...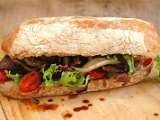 "Left over Lamb!" This is a joke, right? Who ever has left over lamb after a Sunday Roast? Well we do, because we plan for it you see! Yes, instead of heating the oven for 1 leg of lamb, roast two and you can easily squeeze two more meals from that meat.