Roasted with Chorizo
3 recipes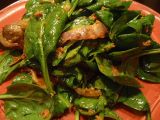 Main Dish
Very Easy
15 min
25 min
Ingredients
: Chorizo- 8 ounces Mushrooms- 8 ounces 4 cups (sliced, shiitakes, oysters, chanterelles are great options) Red onion- 1 large (sliced ¼ inch thick) Sp...
Main Dish
Very Easy
20 min
35 min
Ingredients
: 8 baby squid tubes, whole, cleaned out 2 chorizo sausages good for cooking, peeled 1 slice brown bread, stale A bunch of parsley Juice of one lemon 1...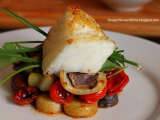 Here's an impressive meal to serve the next time you have dinner guests - assuming Chilean Sea Bass is south of $40 a pound! Really any seafood would do...I imagine it would be equally delicious with the likes of halibut, salmon or shrimp.